Case study
World of Books finds new export markets for used books
UKTI helped World of Books Wholesale fund its attendance at an International Bookfair in China, with an expected £100,000 of new business.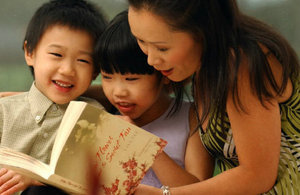 Through its Tradeshow Access Programme (TAP), UK Trade and Investment (UKTI) provided a grant to World of Books Wholesale towards the costs of exhibiting on its stand at the Beijing International Book Fair in August 2012.
The company participated in the event with the support of The Publishers Association, the UK's main trade association for UK publishers and an accredited UKTI trade partner with vast experience of organising UK group participation at major international publishing events.
The local UKTI team set up appointments for World of Books Wholesale with the nine Chinese candidates it had identified in the Overseas Market Introduction Service (OMIS) and one has since become a repeat customer.
UTKI also helped to drive traffic through to the display stand. The company had meetings with a number of passing visitors, two of which (who are not from China) are now customers as well.
World of Books Ltd was launched in August 2008, with the aim of becoming the largest used bookseller in the UK. They have since surpassed this goal to become the largest used bookseller in Europe, selling to over 4 million customers in 90 countries worldwide last year. In December 2012, the company was listed at number 22 on the Sunday Times Fast Track 100 and currently has a turnover in excess of £20 million.
When targeting a new market, there's no substitute for going out there to meet people in person
says Stephen Boobyer, Managing Director of World of Books.
But, when you're taking a week out of your usual business, you want to make sure it's worth your while. UKTI's support while we were in China was fantastic and ensured we made the best use of our time.
Fast facts
Company: World of Books Wholesale
Sector: Creative Industries
Target Market: China
UKTI Services: Tradeshow Access Programme, Overseas Market Introduction Service
Website: www.usedwholesalebooks.co.uk
Published 10 July 2014