Case study
Working as an advisory lawyer in HM Revenue & Customs
Sammy Amareh provides an insight into his role as an advisory lawyer at HMRC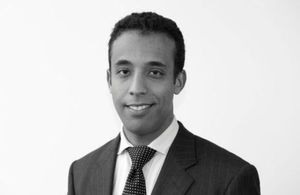 Biography
Sammy works as a solicitor for HM Revenue and Customs (HMRC) and provides legal advice on business tax matters, such as capital gains tax and capital allowances.
Before joining HMRC, Sammy worked in private sector accountancy and law firms.
Why did you decide to join?
I have always been interested in government and politics. Therefore working as a government lawyer felt very appealing. For example, the prospect of working on primary legislation with Parliamentary Counsel or directly with policy colleagues in respect of secondary legislation was something which sounded exciting. The quality of the work and the chance of pursuing a varied and interesting career with the same employer were also factors which made me apply.
What type of work have you been involved in recently?
My workload is quite varied and comprises not only tax law, but also some EU, public and human rights law. For example, I am currently looking at a tax issue in the context of the European Convention on Human Rights. A recent query also had me looking at and advising on the interaction of tax law and intellectual property law. This shows that a lot of the work is often very interesting and I always feel like I am learning something new.
What has been your best experience?
Most of my clients are either tax specialists or policy officials and therefore have a very good understanding of the areas they cover. This means that a lot of the interaction with clients tend to cover complex areas of law and involve fairly technical conversations.
What has been your most challenging moment?
A colleague and I recently held an advice surgery for tax specialists in one of HMRC's offices. This required us to give a steer on several discrete issues in person without having been given much notice of what we were about to be asked – something which was both challenging and rewarding.
What advice would you give to those considering joining?
Do your research, particularly about the type of work which you might be interested in doing and the different roles available. A basic understanding of public law, EU law as well as human rights law will also be helpful to be successful at both the application and interview stages. In addition, make sure you familiarise yourself with competency based application forms and interviews as these play a significant part of the process.
Published 6 January 2015
Last updated 28 January 2015
+ show all updates
Reference to open day event on 22 January removed
First published.