Case study
Working as a litigation lawyer in HM Revenue & Customs
Joanna Amey provides an insight into her role as a litigation lawyer at HMRC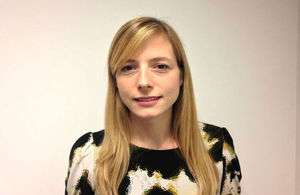 Biography
Joanna Amey is a solicitor and works in the personal tax litigation team at HM Revenue & Customs (HMRC).
Joanna previously worked for a city law firm.
Why did you decide to join?
I have always been interested in current affairs and public policy and it struck me that working as a government lawyer would combine my chosen profession with a subject matter I was fascinated by. The ability to pursue such a potentially varied career path was also a big draw.
What type of work have you been involved in recently?
In the first few months, my workload consisted mainly of appeals before the First-tier and Upper Tax Tribunals. More recently, I have gained experience of defending judicial review claims in the Administrative Court and this has added a further dimension to my work. Every new case seems to bring with it an introduction to a different aspect of the work of the department, from the use of information powers and penalties, to cases concerning residence and domicile and complex schemes of tax avoidance.
What has been your best experience?
A recent highlight was my role in a conference that brought together clients from across the department, as well as leading and junior counsel, to determine HMRC's strategy in respect of a complex tax avoidance scheme with in excess of 100 users. I managed the project and, as a combined legal and technical team, we crafted a novel method of conducting this particular piece of large-scale litigation.
What has been your most challenging moment?
Less than one month into the role, I took over a case that involved the department making - as opposed to defending - an urgent application in judicial review: an unusual state of affairs. With little experience of litigation (and none in the field of public law) this represented a steep learning curve. It was without doubt challenging but also…dare I say it…fun. My experience of being a government lawyer is that you are encouraged to challenge yourself and to develop new skills, in the knowledge that there is a network of colleagues to whom you can turn for advice and guidance. As a result, seemingly daunting experiences take on a new and exciting quality!
What advice would you give to those considering joining?
Think about whether the career path that government legal offers appeals to you. There isn't a one-size-fits-all approach: from what I have seen there is scope to specialise as well as to move between departments. That said, you need to feel enthused by the prospect of working in close proximity to policy (and, at times, politics). You're likely to find the role much more satisfying if you are genuinely interested in the work of your policy and technical clients.
Published 8 January 2015
Last updated 28 January 2015
+ show all updates
Reference to open evening on 22 January removed
First published.