Case study
Work with Community Banks and Credit Unions in Derbyshire
Helping people to understand their finances.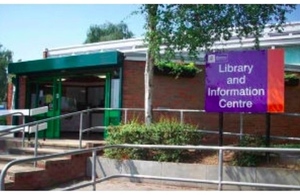 Contribution to corporate priorities
Derbyshire County Council has a strong focus on tackling poverty within the county and has developed an anti-poverty strategy to ensure co-ordination of activity.
In relation to the library service, Derbyshire County Council has the following objectives to:
develop libraries as community hubs
support specialist and community based services through libraries
provide help and advice to local people through libraries
promote Credit Unions through libraries
Description of the work and the relationship
Library premises are offered free of charge for use by Community Banks and Credit Unions.
2 Shires Community Bank are based in Worksop (Nottinghamshire) and provide their services in Bolsover District (Derbyshire) and Bassetlaw District (Nottinghamshire). Their main office is in Worksop but they make their services accessible through 'community branches' in communities across the two districts.
Two 'collection points' are housed in local libraries: Shirebrook and Cresswell. These communities previously had collection points in other locations in those communities but 2 Shires were keen to use local libraries because of their:
location
accessibility within these communities
guaranteed footfall
offer of free accommodation by the library service
The collection points are staffed by Community Bank volunteers and operate for part of one day each week in one library and on Saturday morning every fortnight in the other. At the collection points, borrowers repay small amounts from their loans. The service operates in a public part of the library, with the volunteers recording payments on a laptop which links to the Community Bank website via the library WiFi.
Outcomes achieved
All Credit Unions and Community Banks in Derbyshire have been offered use of local libraries for the type of service provided by 2 Shires Community Bank. Consequently, the visibility of Community Banks & Credit Unions has increased significantly.
Library staff are now aware of the facilities and support available from Community Banks & Credit Unions and are better able to signpost individuals in financial distress.
Most Derbyshire-based Community Banks and Credit Unions operate from town centre office premises and have decided to focus staffing resources on these premises rather than offering a more locally based outreach service. For example, Chesterfield & North East Derbyshire Credit Union provide their services online or through their office in Chesterfield town centre – they do not operate satellite services in other communities in the area.
Lessons learnt
The lessons learnt are that:
the take up of collection points in libraries varies depending on current loans to local people in those communities
informal feedback from customers indicates that they value being able to access the service locally rather than in a larger town further away
it is important that libraries highlight the accessibility of the service during the week, the availability of free internet access and the significant footfall as partners tend to be unaware of these factors
Community Banks and Credit Unions may wish to undertake a risk assessment or discuss individual operating and any structural requirements with their local library
Future plans
Other Derbyshire based Community Banks and Credit Unions have offered information sessions in local libraries, where staff or volunteers encourage borrowing, saving and awareness of the services offered by Credit Unions. Such sessions will be incorporated into 'work and money' events planned for libraries in Derbyshire during 2016.
Additional resources
2 Shires Community Bank website
Published 16 December 2015