Case study
'We were not alone': Iconsulting opens UK office
With support from UK Trade & Investment (UKTI), Italian company Iconsulting has won two new contracts and opened a new office in London.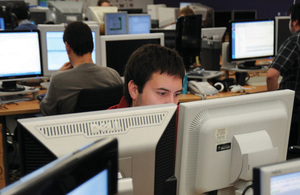 Iconsulting's headquarters are in Bologna and it has offices in Rome and Milan. The company's customers span a range of sectors including food, fashion, retail, manufacturing and the public sector.
After the development of its geospatial analytics programme, in the autumn of 2012 Iconsulting decided to look abroad for new business. The company got in touch with the British Consulate in Milan to find out about the support available.
UKTI then provided the following services to support the company's expansion into the UK:
general advice about the UK market, including government support available for R&D and tax credits
introductions to estate agents in London so it could find office space
networking events where it met other UK businesses in the IT industry.
While it was in the process of opening its UK office, Iconsulting started to meet potential clients in the UK through industry events. In March 2013, the company announced its first UK contract with a UK county police department, quickly followed by the announcement of a contract with a major company in the UK railway industry.
UKTI's advice helped us better understand the needs of potential customers in the UK,
says Nicola Sandoli, Business Development Manager at Iconsulting.
As a result, we decided to focus on offering prospective clients our unique location intelligence services to stay ahead of the strong competition which characterises the UK market. UKTI's targeted guidance helped us avoid many beginners' mistakes. The service that they offered was far beyond what we expected and they really helped us feel like we were not alone in this new and exciting venture.
Future plans
In June 2013, Iconsulting opened its UK headquarters in London and it is also growing an international team to be sent out on projects in the UK and abroad. In January 2014, the company's success in the UK was recognised by the British Government when it won the Market Entrant Award at UKTI's UK-Italy Business Awards.
We are so glad that we contacted UKTI when we did,
says Nicola.
They have given us confidence to pursue large new clients and have helped us see how relevant our product is to the UK market. When you have that high level of support it is much easier to keep the ball rolling in the right direction. Without UKTI's help, we would not have been able to get set up as quickly as we did.
About Iconsulting
Founded in Italy in 2001 as a spinoff from a research group at the University of Bologna, Iconsulting specialises in data warehousing, business intelligence and project performance management. More recently, it has become a leader in geospatial analytics, also known as location intelligence, which helps users integrate a geographical dimension into their business intelligence platforms, allowing them to better monitor and interpret data.
Published 19 March 2014