UK aid is working with CAFOD to bring clean, safe water to the world's poorest communities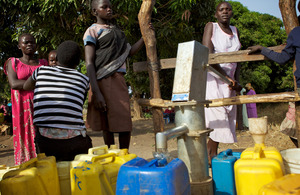 "It's hard work pumping the water. It takes time to fill the jerry cans, but the borehole is near to my home, so it is helping me go and come back quickly."
Elizabeth Eidngo lives in St Cecilia diocese in Yei, one of South Sudan's medium sized cities. She is using a borehole built by CAFOD. With the help of UK aid through match funding for CAFOD's Lent Appeal, more clean water can be provided to the poorest communities like St. Cecilia.
Elizabeth has 5 children - 3 boys and 2 girls and is also 5 months pregnant.  She expertly handles the arm of the pump and starts the rhythmic up and down pumping motion, which quickly draws up clear, clean water into one of her jerry cans.
Water supplies in Yei are increasingly under pressure as more people return from Khartoum and neighbouring countries to restart their lives in the new South Sudan.
Elizabeth's community in St Cecilia is one of 13 in Yei County to have benefited from a new borehole, built by one of CAFOD's local partners, Caritas Yei.
Water to drink, bathe and wash with
Like everyone in the community, Elizabeth is entitled to 100 litres of water from the borehole each day for her family to use.  She fills one 23 litre jerry-can full of water, lifts it onto her head and walks slowly but confidently towards her home.
One hundred litres of water per day is not a lot, but it is enough for Elizabeth's family to drink, bathe in and wash their pots and pans with, and knowing that the water in the borehole is clean is a great relief to Elizabeth.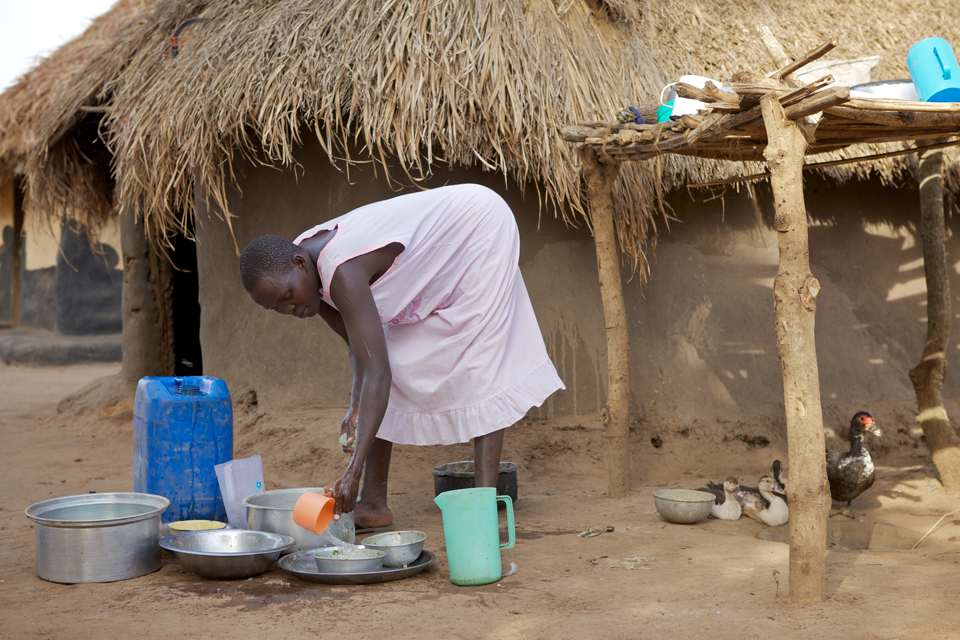 "It was a hard moment when there was no clean water here," she says. "We used to walk to an open shallow well and scoop dirty water into our jerry cans. The children were always sick, with diarrhoea and vomiting."
With no health clinics nearby, and little money to pay for medicines, Elizabeth used to constantly worry about her children falling ill.
"But with clean water from the new borehole, we have seen less diarrhoea and the children seem healthier," she says.
One in eight people in the world still don't have access to clean water. The effects of this are devastating. 4,000 children die every day as a result of diarrhoeal disease, the vast majority of which is caused by inadequate access to water and sanitation.  At any one time, half of all hospital beds in developing countries are filled with people suffering from water-related diseases.
This year, CAFOD's Lent Appeal is raising money to bring safe water to thousands of the world's poorest communities. The UK Government is match-funding the appeal, meaning every £33 raised will provide not one, but two families like Elizabeth's with clean drinking water.
International Development Secretary, Andrew Mitchell, said:
"CAFOD is working to improve water access, sanitation and hygiene for some of the world's most vulnerable and neglected people, including those affected by war, climate change and disease. It is potentially life-saving work, tackling cholera, helping girls attend school rather than having to fetch water and ensuring that children know about hygiene and waterborne diseases.
"By matching pound for pound all public donations, the UK Government will help CAFOD double its impact, ensuring tens of thousands more families have access to clean water and sanitation and are provided with everything from water purification kits and soap to training in how to fix a broken borehole."
For further information on CAFOD's Lent Appeal and UK Aid Match funding, please go to cafod.org.uk/lent
Published 20 March 2012