Case study
Want to be your own boss? Dean Clarke – R3v3r3nt Skateboards
How passion and the New Enterprise Allowance helped Dean Clarke set up a skateboard, clothing and video business – R3V3R3NT Skateboards.
This case study was withdrawn on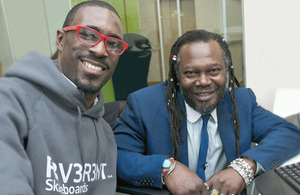 Dean, 28, a New Enterprise Allowance participant, has had a passion for skateboarding since his early teens. Unemployed for 6 months he spoke to his Jobcentre Plus adviser. He'd always dreamed of using his creativity to make a living and in February 2013 launched R3v3r3nt (pronounced Reverent) Skateboards based in Brixton. He provides custom designed skateboards and his own clothing brand. He also creates skateboard videos to promote the brand on YouTube and other online channels.
Dean said: "The help and assistance I've had from my advisers has been invaluable. I intend for R3v3r3nt Skateboards to be a global skate brand that stands for quality, value and expression."
His website is under construction and he uses Twitter to promote his work – twitter.com/r3v3r3nt
Levi Roots looks forward to being Dean's mentor
Levi has agreed to be a mentor for Dean Clarke from R3V3R3NT. Dean has the opportunity to accompany Levi to business events. This will give him one to one access to Levi and opportunity to meet and network with other new businesses.
Dean's 5 top tips for starting your own business
1. Have a vision
It's important when starting a business to have a vision. There are a lot of obstacles that you may encounter whilst beginning which will be easy to manage, or be non-existent, if you can see where you are going.
2. Be constructively motivated
There are many elements that go into forming a business; some are exciting and some not very exciting. It's easy to stick to the tasks that are exciting as they help you get through when you don't feel like it and leave the other tasks till later when you can be bothered. But that shapes your mind to view some business things as demotivating and others as motivating, hindering your progress before you even start. The truth about it is there are 2 types of motivation: constructive and destructive and you need to view all the tasks concerning the start-up of your business as constructive, regardless of how you feel, to ensure you give yourself the best start.
3. Write a business plan
It's important that you write a business plan – not only for the purpose of getting investment, but more importantly for yourself. When you see your business idea laid out on paper with a plan on how it will be achieved it encourages you to persevere through the challenges that you face. It provides you with a physical record of your vision and goals you'd like to achieve with detailed steps in how you will accomplish them. That will embolden you to face more or less anything.
4. Stay creative
It was you being creative that most probably gave you your business idea to start with and may well be the determining factor that keeps you in business. So make it your goal to keep creativity at the forefront of all that you do. The mind is very powerful and given time and space will present some revolutionary thoughts that will inject new ideas and perspectives to your plans, so it's a valuable resource you can't really do without.
5. Enjoy the experience
Starting a business can seem very daunting but there is a wealth of opportunity and experience to be had. There are challenges like any other endeavour in life but the benefits and the progress you will make whilst on the journey are certainly worth it and you will become a better person so enjoy the experience.
Published 25 November 2013