Young people take action to prevent new infections and support HIV positive people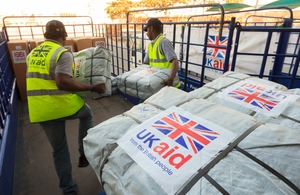 The Student Stop AIDS Speaker Tour has been bringing the stories of those most deeply effected by the AIDS pandemic to the UK for over 5 years. Young people from across the world who have overcome huge adversity lend their weight to the global response by travelling around universities and schools across the country to share their experiences and inspire action.
On 24 November the speaker tour visited the DFID offices in London. Bonani, Esnart and George gave an insight into the reality of living with HIV and the effect it has on communities and families, the impact of DFID's work in this field and the ongoing challenges the pandemic presents.
Video: Watch the edited highlights of their personal experiences.
Video: Watch the edited highlights of their personal experiences
Bonani Madina, 27, Zimbabwe
Like many young people growing up in sub-Saharan Africa, Bonani has lost childhood friends and family members to HIV and AIDS. Bonani and his family have been acutely affected by the stigma and discrimination surrounding HIV and AIDS when his brother and brother's wife died, leaving behind three young children. Bonani currently cares for three orphans, the youngest of whom is HIV positive herself and is reliant on ART, something which his brother did not have access to, highlighting the importance of HIV medication. Bonani has been involved with Restless Development for eight years, starting as a volunteer and now as an Assistant Programme Coordinator. Read his story » 
Esnart Mwila, 30, Zambia
Since finding out her HIV positive status, Esnart has been motivated to become an advocate and peer educator, sharing her life story as a young lady living with HIV on ART with a wide range of audiences, schools, churches, clinics and market places. Like the majority of people living with HIV in the world, Esnart found it difficult to disclose her status to her family and friends, and experienced the discrimination that the majority of people face every day when her sister stopped talking to her and refused to eat with her. She has since rebuilt the relationship with her family and has encouraged her entire family to have VCT. Esnart now works as a facilitator for TALC (Treatment Advocacy and Literacy Campaign) and a trainer for the Peace Corps. Read her story »
George Montgomery, 23, Maryland, USA
George found out he was HIV positive whilst on active duty in the US Marines where he felt first hand the stigma and discrimination surrounding it. Becoming aware of the stigmatisation surrounding HIV and the disparities in treatment and care, he was motivated to become an AIDS activist and peer educator, travelling across the US telling his story to the youth population and becoming active in organising protests and conferences. George is currently actively involved in the Campaign to End AIDS as the National Youth Co-Chair. Read his story »
Published 1 December 2010