Case study
UKTI supports Cundall's export growth
UKTI has supported the growth of Cundall's business in new markets.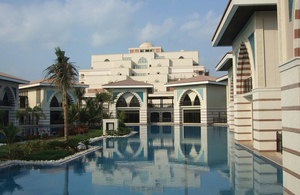 An International Trade Adviser (ITA) and the Overseas Market Introduction Service (OMIS) have proven to be valuable resources, steering the company in the direction of export success.
Cundall is a leading multi-disciplinary engineering consultancy operating from 20 locations in 11 countries. The company provides engineering consultancy and sustainability advice to clients across the UK, in the Middle East and North Africa, Asia, Australia and Europe. Today, overseas work accounts for 30 per cent of its business.
Since Cundall got in touch with UKTI in 2009, an ITA has been a useful sounding board as the company considers which markets to invest in. Once an initial decision has been made, the company has used UKTI's OMIS to:
gather more in-depth research
understand the local market
identify key contacts
be introduced to the right people.
This approach was particularly useful when Cundall was thinking about setting up in Qatar in 2010. The company commissioned an OMIS asking the UKTI team based at the British Embassy in Doha to scope out the market in more detail, targeting 10 to 15 specific local businesses and relevant government agencies.
An introduction from the British Embassy undoubtedly holds more weight than if we had approached people through a commercial agent or on our own
says Carole O'Neil, HR & Training Partner at Cundall.
UKTI helped us to be better networked and sowed the seeds of opportunities for us to pursue.
Building success
Satisfied that an investment in Qatar was justified, Cundall opened an office in Doha in 2011. The company has completed and is working on a number of local projects, including:
a confidential Palace Project for a VVIP
the Health and Wellness Facilities for Qatar Foundation's ambitious "Education City" project, creating sports facilities to the highest Olympic Standards
Meanwhile, Cundall's close relationship with UKTI and its ITA continues.
Carole says:
Building a strong export business takes longer and can cost more than you might think Having UKTI on board is a valuable asset. Their ITAs are incredibly helpful and assist you in getting things right in the first place; their in-country teams have at their disposal far more local knowledge than we could gather quickly ourselves; and OMIS is a cost effective way of getting quality market research done. We've been really happy with the results and will continue to make use of UKTI's support.
Fast facts
| | |
| --- | --- |
| Company | Cundall |
| Sector | Engineering |
| Target Market | Qatar |
| UKTI Services | International Trade Adviser, Overseas Market Introduction Service |
| Website | www.cundall.com |
Published 19 March 2014