Case study
UKTI support 'very valuable' to WMP in China
UKTI Trade Mission to China helped creative agency WMP to win lucrative new business, worth over £2 million.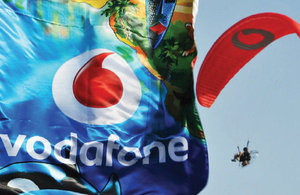 UK Trade & Investment (UKTI) Trade Mission to China put the wheels in motion for creative agency WMP to learn about the market and win lucrative new business there.
Formed in 1980 just outside Oxford, WMP is now one of Europe's longest established creative agencies. The company has worked with big names such as 3M, Vodafone and Jaguar Land Rover and on projects that include video, product design, graphic design, live events, exhibitions, digital media and integrated solutions.
In over 30 years of business, WMP has built up an international network of tried and tested partners in a wide field of creative and technical expertise. The company's key overseas markets are Europe, the Middle East and China and it has teams based in Doha, Hong Kong, Shanghai and Beijing as well as the UK.
Mission to China
One of the markets that WMP planned to target was China. In 2011, the International Visual Communications Association (IVCA), a representative body for the industry, suggested that the company join a UKTI Trade Mission to this market. The visit was subsidised by a grant from UKTI and covered Nanjing, Beijing and Shanghai. As a result of this visit, WMP:
made several useful new contacts;

employed a representative in Nanjing and one in Beijing

secured new business, including a web development project for Haukie and a television commercial for Beijing Design Week
A second UKTI Trade Mission in 2013 gave WMP the opportunity to follow up with contacts made on the 2011 visit and identify opportunities to generate new leads.
Meanwhile a UKTI Trade Mission to Qatar in 2012 allowed WMP to build a pipeline of opportunities in this market too.
Major new projects
In 2013, WMP made a further trip to China to recruit new staff, meet with existing clients and explore new opportunities. This resulted in a £2 million project making two 3D films for one of China's largest commercial property companies. The company is also working on a major project at the Beijing National Stadium, known as the Bird's Nest, and talks are already underway for a second project with the same client.
Today, WMP has five members of staff in China – two permanent and three employed on a contract basis.
Without UKTI, we simply would not have gone to China at this stage,
says William Martin, Chairman of WMP.
Until we joined the trade mission, we had no contact base there at all and no understanding of how the market operates. The first visit really kick-started our Chinese business. Our workload there is gathering pace very quickly, on a scale that we haven't experienced in any other single market.
Fast facts
Company: WMP
Industry: Creative Industries
Target Market: China
UKTI Services: Trade Mission; Business Opportunities; Events
Website: www.wmpcreative.com
Published 10 July 2014