Case study
UKTI helps Wheathills carve out a future in international trade
Wheathills are now selling their Memory Boxes overseas with support from UK Trade and Investment (UKTI)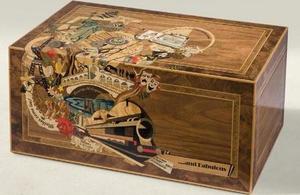 Owner Nigel Heldreich and his team of craftsmen developed the idea to create the Memory Box, a custom-made box for holding keepsakes, designed to reflect the personality of the recipient.
Exploring export
Wheathills recognised that exporting would broaden its sales base and make the company less reliant on the UK market. Initial research suggested that there was potentially high demand across the world for the Memory Box.
In May 2011, Nigel came across UKTI through the Derbyshire Chamber of Commerce. An International Trade Adviser (ITA) sat with him to understand the concept behind the Memory Box, how it could be marketed and which countries would be most receptive to it. The ITA suggested that Nigel join Passport to Export, the UKTI programme that gives exporting companies the tools they need to grow their business internationally.
As part of the Passport programme, Nigel attended a workshop covering all the practical elements of exporting.
The passport to export workshop was incredibly informative. It covered everything we needed to know about exporting.
says Nigel.
Since we began work with UKTI to plan and execute our export strategy, we have had commissions from Australia, China and even a prince in Saudi Arabia.
Topics such as language, culture and legal issues, documentation requirements and action planning were covered to give an overview of export essentials.
Supporting growth
Nigel was particularly interested in selling to the US. UKTI arranged a Business Development Visit (BDV) to Wheathills by a trade officer from the British Consulate in New York, to discuss how the company's advertising and website could be tailored to better suit this market.
UKTI provided grant funding to refresh its marketing literature, and Nigel is due to visit New York shortly for a promotional event at the Consulate.
UKTI has also supported Wheathills in researching and reviewing several other international markets. Nigel has consequently been on visits across Europe to promote the Memory Box and other products to select crowds of invitees.
This has generated particular success in Switzerland, including an order worth £250,000 for a one-off piece of furniture, the company's largest single sale. Advertising initiatives are currently underway to gauge interest in Russia and in the coming year Wheathills will also focus its efforts on Asia.
The work we did to tailor our marketing for the US has proven particularly effective. We now receive three or four genuine enquiries from there every day,
says Nigel.
What I value most about working with our ITA is that I know I'm getting independent and objective advice. That challenges my thinking and helps me to appreciate the implications of a particular course of action. Then it's my decision how to proceed. Thanks to this support, we've come a long way in the last two years and are confident of a promising future.
A family run business for nearly 200 years, Wheathills of Derbyshire specialises in using traditional materials and methods of cabinet making, French polishing and upholstery to create one-of-a kind pieces of handmade furniture and marquetry boxes.
Fast facts
Company: Wheathills
Industry: Restoration & Conservation
Target Market: Global
UKTI Service: Passport to Export
Website: www.wheathills.com
Published 19 March 2014