UKTI helps The Legal Partners win business in Singapore
UK Trade and Investment (UKTI) has alerted The Legal Partners to business opportunities in Singapore and helped the UK law firm support a winning tender bid.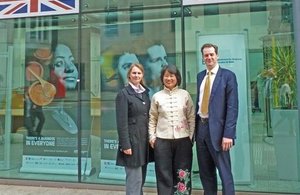 The bid was with company's partner law firm Central Chambers Law Corporation, to provide legal services to the National Heritage Board of Singapore.
The Legal Partners specialises in the area of import and export law for UK and Asia business. The firm's legal advice protects UK exporters, helping them to stay focused on achieving growth targets. Of the world's 10 fastest growing markets, 6 are in Asia, and ambitious UK businesses such as The Legal Partners are aware of growth in the region.
Richard Mullett, company founder, says,
Asian consumers and businesses look for the very best and respect the quality of UK products and services.

At the turn of the millennium, several countries in Asia, including Singapore had strong existing ties with the UK. Combined with a growing number of commercial opportunities in the wider region, this provides plenty of opportunity for quality UK exports. With the right partner firms, we help UK clients in education, training, media and technology to reach and grow in Asia.
Building a network
From 2004 to 2009, The Legal Partners developed a client list mainly comprised of Small and Medium Enterprise (SME) businesses throughout the UK. By 2010, a significant number were in a strong position and looking to meet growing demand for UK quality products in ASEAN (Association of Southeast Asian Nations) markets.
The firm turned to UKTI for market research, intelligence reports and sector briefings, both for its clients' benefit and for its own plans to build a network of partner firms in the region.
With Chinese business culture so strong throughout Asia, and in honour of the Chinese New Year in 2011, UKTI hosted a special Explore Asia event to encourage UK companies to reach out to the region.
It was here that The Legal Partners met Iris Cai, former Finance Manager at global communications giant WPP Group in China and an expert in the business and cultural aspects of exporting into China. Within 6 months Iris had joined the practice as its first China Partner.
Richard says,
As an agile firm, we were free to pivot to Asia as soon as our clients focused on Singapore, China and the ASEAN region for continued growth.

UKTI helped us and our clients get ready to export just as the UK economic recovery hit its stride. Meeting Iris was fortuitous from the very start – she and one of our female partners were the only 2 people at UKTI's Chinese New Year event dressed in red, which is the colour of luck in China. Appropriately, the first lesson Iris taught us was the old Chinese proverb 'right time, right place, right people', something UKTI is excellent at facilitating.
Successful tender bid
With UKTI's support, The Legal Partners built a hand-picked network of local partner firms in China, Hong Kong, Malaysia and Singapore within 18 months.
In 2013, UKTI in Singapore informed the UK firm of a tender to provide legal services to the National Heritage Board of Singapore, and supported the firm as the proposal was prepared. Mr Ronnie Tan of Central Chambers Law Corporation, its partner law firm in Singapore, led the successful tender bid.
UKTI also introduced The Legal Partners to Jeremy Sargent OBE of international law firm JSA Law in Guangzhou, in China. Jeremy now assists the firm's clients to export to China, helping UK companies to build English language schools, export quality fabrics and providing services in demand in the country.
Meanwhile, back in the UK The Legal Partners continues to enjoy a close association with UKTI and to spread the word that UK businesses are welcome in China and ASEAN markets.
The firm joined UKTI's UK Advisory Network (UKAN) and Iris, the firm's China Partner, is a vocal supporter of trade between the UK and China as a regular guest expert on Radio 5 Live's The Money Programme. Richard and Iris have advised UKTI's London team on negotiating in China, and together with Ronnie Tan, the 3 regularly contribute videos and articles on exporting to ASEAN markets on UKTI's Open to Export online community.
Richard says.
The National Heritage Board tender is the perfect example of how UKTI actively promotes and assists UK business overseas.

As members of Open to Export, we share practical advice about reaching Asian markets and negotiating export contracts. China refers to England as Ying Guo, meaning Elite Country, and the English as Ying Guo Ren, meaning Elite Country People and the quality, creativity and innovation of UK products and services is known.

We are happy to support UKTI's efforts to educate UK exporters on how to identify grasp and maximise opportunities in China and ASEAN markets, as well as UKTI's new e-Exporting programme, launched in September 2014.
Published 22 October 2014