Case study
UKTI helps Teagle quadruple visitors to its website
Family agricultural machinery business uses UKTI's Export Communications Review service to improve contacts with overseas consumers and distributors.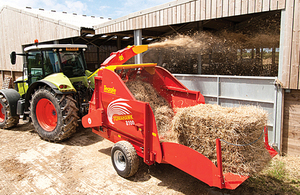 UK Trade and Investment's (UKTI) Export Communications Review (ECR) service has helped Cornish company Teagle develop an international website strategy.
Tom Teagle, Sales Director, said,
The ECR provided clarity to us when we were out of our depth.

It enabled us to develop a really comprehensive and specific brief from which to appoint a web-developer. As a consequence, we've been able to control our budget and the results are amazing!
Export strategy
Teagle has a clear export strategy, developed in the mid1990's, to carefully select and manage one distributor in each country with export potential. 50% of their turnover comes from export sales and they were keen to develop this further.
Teagle knew their website would be crucial in fulfilling this strategy. They wanted to use it as a means to build connections with their distributors and their consumers – the people operating their machines. However they struggled to know how to achieve this.
Tom Teagle said
Our existing website was rather basic with limited functionality. We'd interviewed numerous perspective web designers, but were feeling somewhat overwhelmed by their different approaches and suggestions.
Export Communications Review
Teagle had worked with UKTI for many years and enjoyed the support of an International Trade Advisor (ITA) Colin Piper. It was Colin who recommended ECR which is conducted by a communications expert and tailored to a company's individual requirements.
Susan Roe, a registered Export Communications Consultant met with Tom and undertook a thorough review of the Teagle website in light of their export strategy. This was followed-up by a comprehensive report of recommendations.
ECR recommendations
The review provided practical, impartial and straightforward advice to help improve Teagle's online visibility in overseas markets.
Some of the main recommendations included:
sourcing and appointing a web provider
creating a strategy for dealing with international enquiries
presenting targeted information to international visitors
creating clear website navigation
The report helped Teagle:
define what was needed when appointing a web developer
create a plan to develop Teagle's relationship with their distributors
provide good technical translations through use of registered translators, and language adaption and proof reading by local distributors
create specific country/language pages from their home page and ensuring the Top Level Domain (TLD) was appropriate
The ECR helped Teagle to create 18 website localisations in 8 different languages.
Results of using ECR
Within 6 months, the number of visitors to Teagle's website quadrupled. 80% of Teagle's distributors now regularly use the site and register their customers. This enables Teagle to monitor which products are selling where and adapt their sales approaches.
Customers are also starting to login to the Teagle owner's club, receiving merchandise and advice and providing addresses and potential future sales leads.
Susan Roe highlighted an important point,
Interestingly, the 'History' page has been the most visited, probably due to Teagle being a long established family business – a crucial consideration in many relationship-focused overseas markets.
About Teagle
Teagle is a third generation family business that designs and manufactures a comprehensive range of machinery for livestock, arable farmers and horticultural growers.
The business was established by the grandfather of the current Sales Director, Tom Teagle, in 1943. It now employs over 150 people at their site in Truro, Cornwall.
Fast facts
Company: Teagle
Industry: Agriculture
Target market: Global
UKTI Service: Export Communications Review
Website: www.teagle.co.uk
Published 28 May 2015