Case study
UKTI helps MDT International develop its business in Tanzania
Scottish based energy industry training provider MDT grows its business in east Africa with support from UK Trade & Investment (UKTI).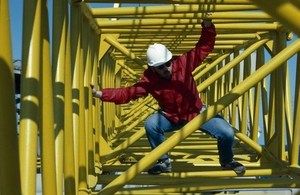 MDT contacted Scottish Development International (SDI) about its interest in entering the important east African market. It then found out about a joint UKTI / SDI trade mission to Tanzania, Kenya and Mozambique.
The mission helped MDT to find a business partner and start to succeed in its business strategy for the market.
Mission to east Africa
MDT's Managing Director, Drew Leitch, joined the mission in February 2013. The mission enabled him to meet:
local contacts
the in-country UKTI team
international companies already doing business in these markets
During the mission he met a local agent, Apollo Temu, who was subsequently appointed to represent MDT there.
Doug Reid, General Manager of MDT International says
UKTI support was crucial to us starting to deliver our strategic growth agenda in Tanzania. It was through the trade mission that we met Apollo, who arranged meetings for me that I would have struggled to set up from Aberdeen. Finding such a credible local partner was a cornerstone of our strategy.
Doug went on a second trade mission to the region in March 2013, organised by the Aberdeen and Grampian Chamber of Commerce. Apollo arranged meetings for him with important contacts, including state ministries.
Doug Reid, General Manager of MDT International says,
Before this year, we didn't use UKTI, SDI or any other agency to support our overseas business – we did it all alone. Now that we are aware of the opportunities and support that these organisations can provide, we will continue to work with them to achieve our ambitious growth strategy.
We keep in regular contact with the UKTI team in Dar es Salaam - it's reassuring to know that they're there ready and willing to support us with anything we need.
Success in Tanzania
The first MDT training course in Tanzania was a great success. It attracted 23 participants from organisations such as BG Tanzania, Ophir, KPMG and the Ministry of Finance. The feedback was incredibly positive, with 100% of participants indicating that the courses had fully met or exceeded their expectations.
Another course is planned for November 2014.
New contracts valued at £1 million
MDT International continues to grow its business overseas with help from UKTI.
Doug Reid says.
In the first quarter of 2014, we secured overseas contracts to the value of £1 million, including long-term agreements with major oil and gas operators and new work in Angola, Brazil and Australia.
Drew Leitch joined a UKTI trade mission to Brazil in May 2014. MDT has some experience in this market and was delivering a batch of courses in Rio at the time.
The company commissioned an Overseas Market Introduction Service (OMIS) from the local UKTI team, to identify important players in the oil and gas industry from local companies, ministries and state entities. Drew had business development meetings with a number of these potential clients during the mission.
After the trade mission, MDT appointed a local partner in Rio. Between the contacts that Drew met on the trade mission and leads generated by the new partner, the company expects to fill new courses in November 2014.
Doug Reid says,
Recently, UKTI contacted us about an opportunity with Pemex, Mexico's state-owned oil company. We'll be talking to them later this year about how we can support their training and development needs. We're on UKTI's radar and we know they'll keep us in mind.
MDT International
MDT International is based in Aberdeen. It has delivered thousands of practical training courses in more than 70 countries to help oil and gas personnel enhance their skills and performance in the workplace. The company's courses have all been developed in direct response to market demand.
Fast Facts
Company: MDT International
Industry: Education and Training; Energy
Target Markets: Africa, South America, Australia
UKTI Services: Trade Missions, Overseas Market Introduction Service
Website: www.mdtinternational.com
Published 18 July 2014