Case study
UKTI helps Goody Good Stuff access global markets
Goody Good Stuff has used various UK Trade & Investment (UKTI) programmes and services to help expand its export business.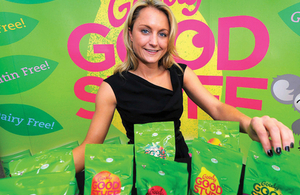 This support has contributed to a 280 per cent increase in its revenue between 2011 and 2012.
As a vegetarian, Melissa Burton was for many years denied the simple pleasure of the classic gummy sweet. A key ingredient is gelatin which is usually derived from animal sources and therefore problematic for vegetarians, vegans and people who keep halal or kosher. Meeting a food scientist who had developed a plant derived bio-gum for the kosher market, Melissa was inspired to adapt this for use in a natural gummy sweet range. This would also be free from allergens such as wheat starch, lactose powder and nuts.
Melissa's company, Goody Good Stuff, is headquartered in Heysham, Lancashire. As a native New Yorker, she was keen from the outset to break into the vast American market. She attended a few trade shows in the US and soon secured her first buyer, supermarket giant Stop & Shop.
By joining Passport to Export, the UKTI programme that helps exporting companies grow their business internationally, Goody Good Stuff was eligible for Tradeshow Access Programme (TAP) funding. Melissa used this to attend the Winter Fancy Food exhibition in New York in 2009.
Whilst there, Melissa and her team were also invited to the British Consulate to hear presentations about the US market. They were taken on tours of local retail outlets to get a feel for what was currently available, pricing and packaging.
Goody Good Stuff went on to commission an Overseas Market Introduction Service (OMIS) from UKTI in San Francisco to help identify useful contacts in the US. UKTI's local team also sent out the company's products to buyers, retailers and distributors, following up with them to get their feedback which they summarised and relayed back to Melissa.
Having the support of UKTI in the market we were targeting was amazing,
says Melissa.
They carried out a very successful campaign for us, getting feedback on our products from 30 local buyers. We then went on to meet these contacts when we exhibited at the Summer Fancy Food Show 2010, for which we had another TAP grant from UKTI. We came away from that event with four huge accounts, which have resulted in orders of over US$250,000.
Global growth
Goody Good Stuff has continued to work with UKTI since, joining delegations to other international food shows:
SIAL 2011 in Paris, where the company found a large distributor for the wider European market
Gulfood 2011 in Dubai, where it found a distributor who has since got its products into over 500 stores in the United Arab Emirates
Alimentaria 2012 in Barcelona which resulted in a deal with El Corte Ingles, one of the biggest department store groups in Europe.
UKTI has made a huge difference to our export success,
says Melissa.
We have already seen a 280 per cent growth in revenue, which says it all!
Fast facts
Company: Goody Good Stuff
Sector: Food
Target Market: US, Europe, United Arab Emirates
UKTI Services: Passport to Export, Overseas Market Introduction Service, Tradeshow Access Programme
Website: www.goodygoodstuff.com
Published 19 March 2014