Case study
UKTI helps CWind win contracts in Germany
CWind's participation in UKTI's new exporters programme helps them develop and then successfully implement an export plan for Germany.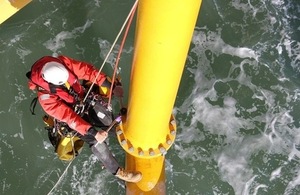 Colchester-based offshore firm CWind landed contracts in Germany following their participation in UKTI's programme for new exporters. CWind now provides its services to offshore wind farms in the UK, Germany and the Netherlands with further export markets in sight.
Petra Ernst-Gutierrez, Marketing and Communications Manager at CWind says,
Working with UKTI has been a really positive experience, and one I would definitely recommend to other SMEs that are thinking about stepping across the channel.
New export markets
CWind was starting to look for markets beyond the UK by 2013 to maintain company growth ahead of an anticipated slowdown in the construction of UK wind farms.
An opportune conversation led to an introductory meeting between UK Trade and Investment (UKTI) ITA Rosemary O'Connor and Petra Ernst-Gutierrez, Marketing and Communications Manager at CWind.
Passport to Export
Rosemary advised CWind to sign up for UKTI's Passport to Export service. This programme helped CWind develop a 3 year export plan for Germany which has the largest portfolio of offshore wind projects due to be built in Europe over the next few years.
Petra said:
Although I'd worked across different markets in a previous role, this was the first time that I had needed to start from scratch in a completely new market, with a mid-size company.

The Passport to Export programme offered valuable support, not just in terms of winning business abroad, but also in addressing the practical aspects of doing business overseas.

Although I was confident that Passport to Export would be helpful overall, I didn't anticipate that the workshops would offer anything new as I already had prior experience of exporting.

In reality they were extremely helpful in highlighting all sorts of areas that I hadn't thought of – such as legal questions around employment laws, payment practices and hedging invoices.
Taking part in UKTI's Passport to Export Programme helped Petra to:
assess CWind's export readiness
meet attendees from other small companies in marketing and development roles to exchange ideas and feedback
mitigate the risks of exhibiting abroad for the first time and understand the competition
network by taking part in offshore wind events
use regular meetings with her export adviser to benchmark progress, set targets and take a strategic overview
Petra said,
I really valued the opportunity to meet with other attendees in marketing and development roles. Most of us came from SMEs where we were the only person working in export, and we therefore had little opportunity in-house to exchange ideas or get feedback.
Export progress
CWind now has a subsidiary and an office in Germany, and the company is running its second project in the Netherlands.
Petra said,
I'm not sure that we would have received similar results without UKTI's Passport to Export programme: we would have found the business, but would we have been prepared for the practicalities of doing business? Perhaps not - it certainly would have taken us longer and there would have been more risk involved for us.
About CWIND
CWind, founded in 2009, provides construction, operation and maintenance services exclusively for the offshore wind industry. It achieved huge growth in a relatively short time period reaching a turnover of £16million and a staff of 44.
Fast facts:
Published 4 August 2015