Case study
UKCloud helps MOD make a major step forward in cloud services
Small and medium-sized enterprise UKCloud are working with MOD to integrate disparate cloud services and improve efficiency and ease of use.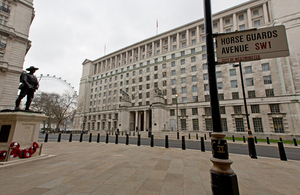 UKCloud is a small and medium-sized enterprise (SME) of 130 employees. Head quartered in Farnborough, it has facilities at Hartham Park, Corsham.
UKCloud has been working with MOD since January 2014, helping them achieve a major step forward in their information services. By connecting their cloud services, it has enabled the defence community to make its information systems more agile, more user friendly and less expensive. Defence employees are based all over the world, in hostile environments and with limited infrastructure to hand. A key requirement is for employees to have access to ICT resources on the move, using a variety of devices, anywhere and any time.
A UKCloud representative said:
Our experience is that ISS is making strong efforts to include SMEs in their drive to deliver transformational IT services for the MOD.
"The ability to understand ISS's plan for ICT transformation and how SMEs will play a key role, enables UKCloud to prioritise its services and engage with industry partners, so that we can offer cost effective solutions on time to the MOD."
UKCloud is also working on other projects with MOD, including the Centre for Defence Enterprise (CDE) Portal 2; this provides a more efficient way to contact potential suppliers for research contracts.
Engagement opportunities
SMEs like UKCloud can meet MOD ISS commercial and project staff through ISS Daap engagement and at 'industry days' facilitated through the trade associations, such as TechUK, UKCeB, ADS etc.
A UKCloud representative said:
UKCloud has really appreciated ISS's initiative to engage with industry and especially with SMEs. The regular industry day briefings allow ISS to inform us of their intent and plans and also allows follow on one to one talks. In addition, the industry days enable industry to collaborate and understand where working together can be beneficial to both industry partners and ISS.
Published 12 September 2016