Case study
UCL MSEC set to grow its overseas business by 300%
UKTI helped UCL MSEC learn about the market when it secured a multi-million pound contract with Umm Al-Qura University in Saudi Arabia.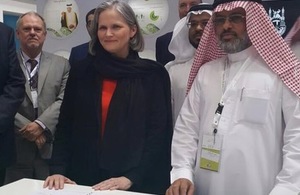 University College London Medical School Education Consultancy (UCL MSEC) secured a 5 year pound contract to completely redesign Umm Al-Qura University's undergraduate medicine curriculum and transform their medical school. This new business win will contribute to a planned increase in overseas sales of 300% over the coming 5 years.
UK Trade and Investment (UKTI) provided local support advising on a range of issues, including business culture, travel and visas. University College London's (UCL) legal team had not previously worked with agreements based in Saudi law. UKTI offered guidance about how this legal system worked which gave UCL the reassurance it needed to go ahead.
Professor Deborah Gill, Director of UCL Medical School said,
UKTI has been very supportive, advising on legal and cultural issues and how to approach new projects. Having the benefit of their experience gives us confidence.
Winning business with Umm Al-Qura University
The medical college in Umm Al-Qura University undertook extensive research prior to signing a 5 year contract with UCL MSEC.
It selected UCL's Medical School as one of the best in the world to work with within the form of a strategic partnership. This relationship is of great benefit to both institutions on multiple levels . UCL MSEC offers a range of consultancy services designed to enable, inform and support high-quality, scientifically rigorous and patient-focused education and training for doctors.
Professor Gill said,
It's exciting to work with great modernisers who are investing in improving the standards of medical education in their home markets

UCL Medical School is recognised as a major UK centre of excellence in medical education and assessment.

It is part of UCL's School of Life & Medical Sciences, the largest collection of biomedical scientific expertise in Europe. UCL itself is consistently ranked in the top 10 worldwide.

We harness this expertise and make it available to other academic institutions, consulting to them on matters such as curriculum design, professional development, assessment and medical ethics and law.
Working with UKTI
UKTI has become a trusted partner for UCL MSEC and continues to play an important role in helping to generate a pipeline of new projects.
MSEC is currently bidding on a project in Dubai for a Saudi Arabian client identified by UKTI.
They also exhibited on the UKTI stand at Arab Health which is the largest healthcare exhibition and medical congress in the Middle East, and second largest in the world.
There, Deborah attended networking events organised by UKTI and spoke to potential partners and clients. As a result, talks are now underway with another of the UK delegates, Health Education England, about a possible partnership to organise sponsored fellowships in the UK for overseas medical students.
Professor Gill said,
Attending Arab Health was a great opportunity to raise our profile in the Middle East.

Without UKTI's support we simply wouldn't have gone. But being there on their stand, in the middle of the building with the Union Jack above us, we attracted a lot attention. We were able to start conversations with potential new partners and clients.

Working with UKTI is now central to the way we grow our business. They open doors for us and get us up to speed very quickly with the in-market information we need. Their local expertise and networks are invaluable and their personnel are really keen to help us.
UCL MSEC's overseas clients
Like many universities and colleges UCL seeks out additional sources of income by offering knowledge sharing and consultancy services to industry and other academic institutions.
Much of the overseas work that UCL MSEC secures comes from referrals.
It's currently working with Ningbo University in China. 70% of students here are international so teaching is provided in English. MSEC has developed a bespoke 4 month programme for their medical educators which it delivers 4 times a year in London.
UCL MSEC is supporting a project funded by the World Bank to modernise medical education in Kazakhstan.
It also runs a 2 week Summer school for medical educators from Iraq to improve their teaching skills.
About UCL Medical School Education Consultancy
UCL MSEC has a staff of 6 supported by other UCL academics as needed. Its annual income has grown from zero to over a million pounds since it formalised its consulting business 2 years ago and began to proactively look for business.
UCL MSEC serves clients in 5 markets, through face-to-face courses, online and blended learning resources, tailor-made training and support packages, and visiting consultancy. Income is re-invested into UCL and the Medical School in particular.
Fast facts
| | |
| --- | --- |
| Company | UCL Medical School Education Consultancy |
| Industry | Education |
| UK region | London |
| Target markets | Saudi Arabia |
| UKTI services | Market Visit Support, Events, Business Opportunities |
| Website | www.ucl.ac.uk/medicalschool |
Published 21 October 2015