Tregothnan takes its tea to China
UK Trade & Investment (UKTI) invited Tregothnan to join a trade mission to China with David Cameron and other Best of British companies.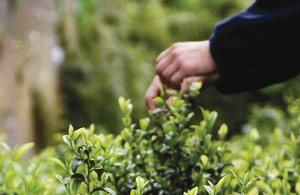 It met influential contacts and discovered several routes to market for its English tea.
Tregothnan has served as a working private estate for more than 650 years. In 2005 it officially became England's first tea plantation. The company wanted to capitalise on the demand overseas for both the British tea-centric lifestyle and its own history as an English Estate.
UKTI provided a comprehensive range of support, including:
Passport to Export
Gateway to Global Growth
two trade missions to Osaka, Japan and Las Vegas, in the US
a launch event for Tregothnan at the British Embassy in Vienna, Austria, promoting the brand in front of 40 UK and Austrian companies
inviting Tregothnan to join the GREAT campaign and helped the company to position its teas across Brazil in the run up to both the World Cup and Olympic Games
Television shows like Downton Abbey give a glimpse of life on a working estate, as well as the challenges of modernisation,
says Jonathon Jones, Managing Director at Tregothnan.
We are a dynamic working estate dedicated to success in the modern era, and UKTI repeatedly showed that they are the perfect partner for a strong British brand going out to meet the world. With their help, we gained significant international exposure and built a trusted network of stockists all in just four years.
Tea of champions
Although tea originated in China, Tregothnan felt that the culture and history behind its luxury English tea brand could help it do well there. The company joined the largest ever UKTI Trade Mission to China in December 2013, with 120 British companies, led by Prime Minister David Cameron.
As a result of the UKTI Trade Mission, Tregothnan connected with Peking University in Beijing, an international hotel chain, and several independent retailers and stockists. The Prime Minister introduced the UK company to Jack Ma, Chairman of the Alibaba Group, a family of internet-based businesses that includes Tmall.com, China's leading shopping channel for branded products.
In January 2014, a documentary about Tregothnan aired to 600 million viewers in China, and the company now plans to open British tea houses in China's major cities.
It was fantastic to visit China as part of a proudly British trade mission delegation,
says Jonathon.
We know UKTI pulls out all the stops to facilitate trade to and from the UK, and were particularly impressed at how hands-on the Prime Minister was at representing 'UK Plc'. Together they helped us to quickly raise our profile in China and gain a strong foothold in the market.
Fast Facts
| | |
| --- | --- |
| Company | Tregothnan |
| Industry | Food & Drink |
| Target Market | Egypt |
| UKTI Services | Passport to Export; Gateway to Global Growth; Trade Mission and Events |
| Website | www.tregothnan.co.uk |
Published 19 March 2014