Case study
Sweet Helmand honey: a beekeeper's story
The Comprehensive Agriculture and Rural Development Facility is helping Helmand to become a centre of agricultural productivity again.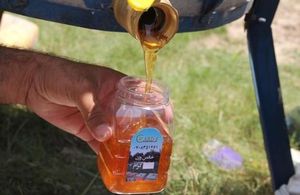 Supported by the UK's Department for International Development (DFID) and Denmark, the Comprehensive Agriculture and Rural Development Facility (CARD-F) has helped Helmand farmers to set up 50 bee farms and make a living through producing honey. Nazar is one of the farmers that have received support to set up a farm. Nazar said:
CARD-F has given me 10 bee hives. Five of them have bees and the other five are empty. They also give me technical support and train me in this new business.
Prior to surrounding himself with bees for a job, Nazar worked on his small farm, trying to cope with the extremes in Helmand's temperature including the hot, dry summers. Nazar said:
working on my farm was very difficult and the revenue was insufficient. But these bee farms are easy, require little investment, and the benefit is great.
Nazar has 11 persons to feed at home and his new enterprise has helped him take better care of his family. Nazar explains:
I have had my first harvest from the five hives and it is over 30 kg (66 pounds).
He adds:
The market welcomes the quality of this honey and I sell it at 600 Afghanis per kilogram (nearly 6 pounds per kilogram).
The harvest of other farmers has been good too. For example, eight of the other 49 bee farmers supported by CARD-F had by July reported that they had already collected over 200 kilograms (440 pounds) of honey. Long summers in Helmand allow the bee farmers to harvest honey two to three times a year. Equipped with low cost honey extraction devices, farmers can manage the entire process from production to packaging.
Speaking of the future, Nazar says:
Bees are reproducing fast and have almost filled the five empty hives I was given.
The bee farm has already made a positive impact on Nazar's life, prompting him to grow his new business in the hope of doubling his produce next year.
In addition to setting up bee farms in the province, CARD-F has introduced other new and viable enterprises that include greenhouse farming, and poultry production.
Published 3 May 2015