Case study
Support from UKTI helped Australian company expand to the UK
Thanks to practical help from UK Trade & Investment (UKTI), Australian company Tinyme enjoyed a quick, smooth launch in the West Midlands.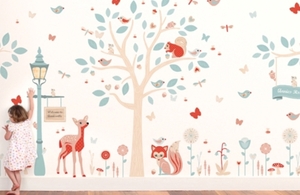 Tried and tested classic children's toys are enjoyed by generation after generation and compete with a huge array of new products coming on to the market every year. Since 2006, thousands of parents searching for a unique gift for their child have found what they're looking for through the company known today as Tinyme.
The business started out as mooo.com.au. It was set up in Melbourne, Australia by 2 young fathers, Mike Wilson and Nick McLennan, who had met at university where they were both studying Industrial Design. Working out of a spare bedroom, they started making wooden name puzzles. As the business grew by word of mouth, the team came up with a comprehensive range of affordable, premium quality, designer, personalised products.
We are very design focussed, and the look and feel of our products resonates with our target user demographic of 0 to 8 year olds.
Says Ben Hare, Chief Operations Officer of Tinyme.
From wall stickers to bags, name labels to stationery, our buyers find the perfect custom-made gift for their child, or someone else's, and have it delivered to their door. Each item really is unique. We've already worked with 12,000 different first names, and given the various combinations of products, designs and colour schemes, the likelihood of us producing 2 identical items is negligible.
Deciding on the UK
Even without marketing itself outside Australia, from early on mooo.com.au was shipping to overseas customers. In 2010, the company decided it was time to really go global, build a new website and brand. The UK was chosen as the first destination. When their local UK Trade & Investment (UKTI) ran a UK Market Entry competition (UKME), mooo.com.au decided to enter. They were hoping to win a business support package that included:
British Airways return airfares to London
meetings with potential business partners
introductions to business networks
a free limited company
ongoing UKTI support
Although mooo.com.au didn't win, it stayed committed to its plans to expand into the UK. In 2011, a new brand and website, tinyme.co.uk was launched and mooo.com.au was retired. Its 150,000 or so customers were redirected to the new website.
The UK market is 3 times the size of the Australian market.
Says Ben
Its legal structures, business culture and consumer tastes are all similar to Australia's and we found that there was no dominant player there in our field. So, we felt it offered plenty of opportunity for us to grow. We had found out through the UKME competition the extent of the support available from UKTI, which was a big differentiator compared to other markets, such as the US.
Support with setting up customer service
Whilst Tinyme was able to ship orders to the UK within 2 or 3 business days, because of the time difference with Australia it was not easy to provide the customer service that the company prides itself on. It began to make plans to open a UK office. UKTI provided a huge range of practical support:
making introductions to professional service providers
providing information about legal, employment, environmental, banking and tax matters involved in setting up in the UK
carrying out market research
putting Tinyme in touch with local partners, including Business Birmingham
Birmingham presented as an ideal location for Tinyme. Its central position makes it convenient for distribution, rental is cheaper than in London and it has a large population base and talent pool from which to recruit staff. Ben made 2 short visits to the UK to explore the market. With help from Business Birmingham, he found premises for a customer service centre. The new office opened in October 2012 and is currently staffed by 1 customer support representative who was recruited locally. She is in frequent contact with her Australian colleagues as she learns the ropes.
Thanks to the support we had from UKTI and Business Birmingham, in just 1 week I was able to hire our first UK staff member, open an office and get it kitted out.
Says Ben
The UK was an unfamiliar market for us, so it was amazingly beneficial to have access to UKTI's existing networks. Rather than going through the usual steep learning curve, making mistakes as we went along, we found the right contacts straight away and were able to get up and running quickly. Without their help, setting up in the UK would have taken much longer, been more expensive and more risky. As it is, things are already going well and we hope in a few years to be in a position to begin manufacturing locally.
Find out more
Background on business between the UK and Australia
Contact UK Trade & Investment in Australia
Published 8 May 2013