Case study
Success story: Puridify heralds new generation of biotherapeutics
£880,000 of Innovate UK funding speeds development of 3D nanofibre filtration process for more cost-effective manufacture of enzymes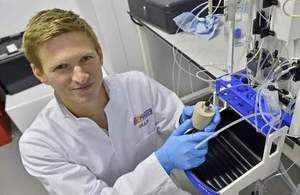 Enzymes and proteins are becoming more and more important in the fight against cancer and other diseases.
Demand for biotherapeutics has grown a hundredfold over the last 20 years yet manufacturing methods are still geared to small-scale production, which limits their availability.
Oliver Hardick is co-founder of Puridify, a company that has had funding and other support from Innovate UK to develop a novel technology, FibroSelect. It uses nanomaterial for advanced filtration of enzymes.
By speeding up production and reducing unit costs from the current $300-1,000 per gram, it could save drug companies between £700,000 and £2.7 million per batch. Oliver explained:
We use the same principle of chromatographic separation to capture proteins and filter them. However our process uses a 3D nanofibre rather than the highly porous beads currently used. It's 10 times more efficient, and could reduce production costs by 25%.
The commercial opportunities are considerable. The $5.2 billion global chromatography reagent market has grown at around 14% annually for the last 5 years and is forecast to reach $12 billion in 2017.
In 2013 Puridify received a £100,000 Smart award from Innovate UK to develop their technology and to overcome technical and logistical hurdles.
Patent protection
One issue was the supply of raw materials for the critical – and rare – 3D nanofibre. After their original supplier stopped manufacturing the base material Puridify had just three months to find new suppliers. In fact they found several sources able to make the fibre to specification, improving security of supply.
The project also resulted in patent protection for the technology. Puridify has filed 2 UK patents, one of which has progressed to international filing.
The success of the prototype study has also led to further projects and investments, attracting considerable interest from the industry.
In May 2014, technology commercialisation company Imperial Innovations announced £850,000 of seed financing for Puridify with support from GlaxoSmithKline's independent corporate venture capital fund, SR One, and co‐investors UCL Business.
Innovate UK has also awarded a total of £780,000 further funding for additional projects to bring FibroSelect to market. Oliver said:
We've grown from just 3 of us about 15 months ago to our present team of 8 research scientists, all working at University College London. We want to prove the value of this technology, and then build manufacturing capabilities to keep it based in the UK.
Since any major pharmaceutical firms using this technology will require assurance of supply we anticipate we'll have to work in partnership, deal with established suppliers and involve other people to get to where we need to be. However, we're keen to grow this to a sustainable business where we're generating revenue and continually building expertise.
Oliver recommends the Smart scheme to other innovators thinking of applying for Innovate UK funding:
The Smart funding enabled us to hire additional staff, look for extra finance and find new partners. We've now got people on board who can continue to develop the technology and formed new collaborations with global industry partners. It's helped us to develop at a much faster rate, which is really important in the space that we're in.
Published 20 July 2015