An ambitious social enterprise that supports individuals from all walks of life to achieve success in their life.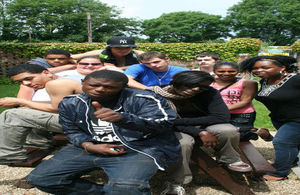 While it works with people of all ages, Striding Out's main mission is to give young people access to career coaching and training to help them achieve their full potential when entering into work or starting a business. Between 2009 and 2010 it helped 800 young people on a long-term basis to enter sustainable employment, self-employment, education or training.
As a result of its success, a CIC that has gone from a turnover of £200,000 in 2005 to £1.3 million in 2010, Striding Out has expanded its offering to include assisting people with employability skills, providing clients with the knowledge and skills to explore starting their own business, and the provision of social enterprise infrastructure support.
Striding Out works with public, private and third sector clients as well as individuals. Its team of professionally trained coaches, qualified in their own fields, provide coaching and training across our range of services.
With income streams from the coaching, training and consultancy elements of the business, each coach is a Striding out franchisee, self-employed to deliver the organisation's Striding Out. This is key to the success of Striding Out and one of the reasons Heather Wilkinson, its Founder and Chair, thinks they benefit from running as a CIC.
"We build trust with our clients and our coaching team. Being a good social enterprise helps us win business, without a doubt, it gives us an edge when we tender for opportunities. We're not here for maximising personal profit, instead we reinvest our funds to enable us to develop and expand our services at a more affordable price to people that need support. Our coaches have a vested interest in delivering quality services to ensure the business model works and creates opportunities to help people reach their potential."
Wilkinson wanted Striding Out to reflect her passion for social entrepreneurship. Therefore operating as a CIC connects to her values and those of others in the business.
Last year Striding Out provided 3,700 unemployed young people with pre-employment support, placed 520 young people into newly created jobs, and delivered 250 coaching sessions and 40 workshops to 100 emerging and established leaders of social enterprises through its social pioneer programme. It was short-listed for the Growth Champion award for the RBS Social Enterprise 100 award.
Wilkinson plans to expand Striding Out's work across the UK. "We want more coaches to adopt the Striding Out brand and to help many more people achieve their potential. That's where our passion lies, we want to inspire people to do different things."
| | |
| --- | --- |
| Name | Strriding Out |
| Location | National |
| Company structure | CIC limited by guarantee |
| Founded | 2005 |
| Community interest statement | Helps individuals stride out to success. It provides professional coaching, training and networking support to entrepreneurs, career changers, professionals, leaders and young people. |
Find out more about Striding Out
Published 2 August 2013