StepJockey: health app developer wins £600,000 private investment
A business that developed its health app with an SBRI contract has secured new investment and is working with blue chip companies worldwide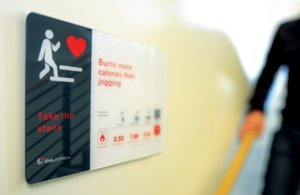 Health app developer StepJockey Ltd is set to grow its business after securing £600,000 in private investment.
The StepJockey app was developed with a £200,000 SBRI (Small Business Research Initiative) contract from the Department of Health.
The company promotes health and fights sedentary behaviour in multi-storey office buildings by placing smart signs on the stairs and offering a corresponding app with a gaming platform.
The signs use near field technology and display calorie burn data for the stairs, increasing stair use in buildings by 20%-40%. The app can read the signs and record data on stair use. This allows employers to introduce stair climbing challenges that can increase stair use by up to 800%.
Stair climbing burns 8-9 times more energy than sitting and 7 times more energy than taking a lift. It also burns more calories per minute than jogging. Just 7 minutes of stair climbing a day has been estimated to more than halve the risk of a heart attack over 10 years.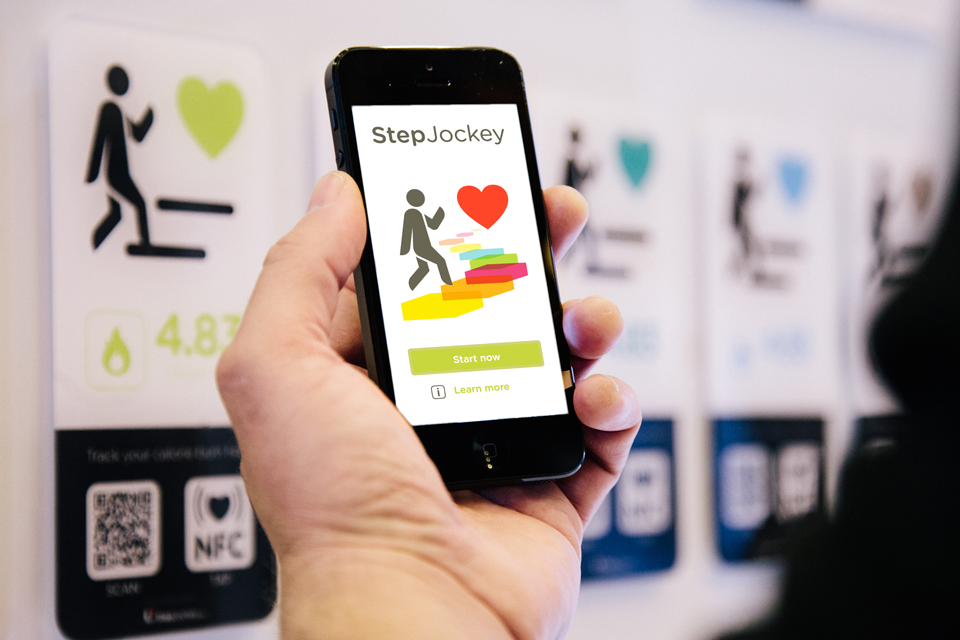 SBRI gave StepJockey credibility among clients
StepJockey was founded by behavioural economist Helen Nuki and successfully pitched its idea for the app to an SBRI competition funded by the Department of Health.
StepJockey chief executive Paul Nuki said:
SBRI allowed us to properly and scientifically validate the idea with prototypes. That's pretty important for a small business as, for most, a proper study is too expensive to be feasible.
It allowed us to build and deploy a live product. After that, the fact that government, and in particular the Department of Health, had been a supporter made a big difference on clients. It gave the company a status and a credibility.
Since its launch in 2013, StepJockey has labelled more than 6,000 staircases in 90 countries. Its customers include Deloitte, Disney, Barclays, KPMG, ITV, Jones Lang Lasalle, Lloyds of London and L&G. It is also working with a growing number of hospitals and public authorities in the UK and overseas.
Business set to grow rapidly
The £600,000 investment round was led by London Business Angels and supported by a number of angel and private investors including Med City, Capital Enterprise, Sevenex Capital Partners and London Co-Investment Fund.
StepJockey says it will use the investment to expand its sales, marketing and product development and bring its service to thousands more office workers around the world.
The company now employs eight people and has offices in London and Cornwall. It expects to grow significantly over the next five years to eventually employ 30-40 people.
Under SBRI, businesses can win a contract worth up to £1 million or more to develop a new product or service for the public sector. The programme is co-ordinated by Innovate UK.
Published 21 September 2015