Case study
Spin-out sets the pace with real-time, running style retraining
Biomechanical engineering specialist expands its franchise operation around a gait analysis system that helps athletes avoid injuries.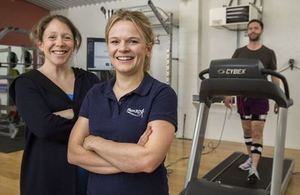 Run 3D running gait analysis helps athletes avoid injuries
A spin-out company from the University of Oxford is building a franchised network around cutting-edge technology designed to help professional athletes, sportsmen and women, and runners all over the world, avoid injuries and improve their performance.
Run3D, a biomechanical engineering company specialising in 3D motion, has developed a real-time analysis and retraining system that identifies patterns in running style.
There are now Run3D sports clinics in Oxford, London, Surrey, Essex, Hampshire and Dublin.
Real-time reporting and retraining
Some three-quarters of runners get injured every year, mainly due to poor running style.
Run3D received £83,000 from Innovate UK to develop a prototype 3D gait analysis system for use in sports clinics and tailored to specific sports, with real-time reporting and retraining of posture and style.
Running injury research
The project, funded under the emerging and enabling technologies programme, was completed in December 2016 after more than 2 years' research and development.
Dr Jessica Bruce, founder and managing director of Run3D, who has represented Wales at cross-country and road running events, said:
We know that the technology can benefit runners of all ages and all abilities.
Our aim was to bring the latest advances in running injury research and performance to clinicians, coaches and runners everywhere. Innovate UK helped us to achieve this goal.
More than 4 million amateur sports people are injured every year in the UK, usually through poor running style or posture or by over-ambitious training. It also costs the economy an estimated £61 million in lost productivity.
Exercise therapy
Run3D's real-time analysis system can pinpoint the causes and allow them to be corrected. That might be through exercise therapy, recommendations on footwear, physiotherapy or changing the way a person runs.
Physiotherapist Andrea Bachand, the clinical lead at Run3D, added:
Because the technology works in real time we can check to see if the changes are working. We can also identify things that are impacting on someone's performance.
One example might be a tri-athlete transitioning from the bike to running and their pelvis is tilted forward. This is going to affect their running. Run3D can be used for gait retraining to correct this problem.
Published 18 April 2017