Sowing the seeds of scuba rice
How flood resistant rice is helping South Asian farmers feed their families when the floods come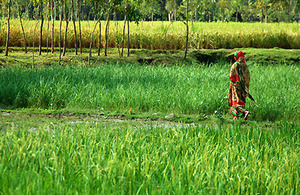 When Mohammad Shahidul Islam saw his neighbour's fields, he couldn't believe his eyes. A 15 day flood had covered the land and he wasn't expecting his friend's latest rice crop to survive.
"I saw Mostafa's field flooded, and then I saw the rice recover," he recalls. "I was surprised - it was like magic."
But the crop's recovery is all thanks to a new variety of rice rather than wizardry or magic tricks.
The rice, known as scuba rice, is flood resistant. It can breathe underwater for up to two weeks and recovers once the waters subside.
Feeding families
Mohammad's neighbour, Mostafa Kamal, is one of a group of farmers who are testing this new strain in Rangpur District in northwestern Bangladesh.
Every four out of five years, Mostafa's farm suffers heavy losses because of flooding. And two hectares of his land are so regularly flooded that he no longer uses them to grow rice.
But the scuba rice means that Mostafa can produce enough rice every year to feed his family, as well as producing extra grain that can be traded at local markets.
"In the past, many of my plots became fallow because they were flooded too often," says Mostafa.
"If we can cultivate on these plots, it will help us produce rice to sell on the market. Two extra hectares is a big jump."
The birth of scuba rice
Scuba rice was developed by the International Research Rice Institute (IRRI), which receives core funding from the Department for International Development.
Although rice thrives in wet conditions, it can't survive if the whole plant is completely submerged. Like us, rice needs air to stay alive.
But scuba rice is special. It responds to complete submersion by effectively becoming dormant, saving energy until the floodwater recedes when it can continue growing again.
When Mostafa took part in IRRI's field testing, he planted 2 hectares of his land with the scuba rice and the remaining land with his normal variety of rice.
Soon afterwards, the 15 day flood arrived. When the waters receded, Mostafa was amazed by what he saw. In the plots planted with scuba rice 95%-98% of the plants recovered. In the plots planted with a traditional variety, only 10%-12% of the plants survived.
Rice for life and livelihoods
Rice is one of the world's most important crops. One fifth of the world's population, more than 1 billion people, depend on rice cultivation for their livelihoods. And for 520 million people in Asia, most of them poor or very poor, rice provides more than half of their calories.
However rice is vulnerable to climate change, especially flooding. Large areas of major rice-producing countries such as India and Bangladesh are flood prone and major flooding events are likely to increase. 
In the past, Mostafa and Mohammad couldn't do anything to protect their crops. But now, UKaid supported scuba rice will help them provide food for their families, even when water submerges their land.
Spreading the seeds
Scuba rice is targeted at South Asia and minikits containing 5 kilogram packets of seeds are currently being distributed to farmers across India. Within 1 year of release, the flood resistant rice has reached more than 100,000 Indian farmers and it's hoped it will be fully adopted within five years.
Having seen his neighbour's fields, Mohammad is convinced that scuba rice is the answer to feeding his family.
Previously he had to buy 1 to 2 months' worth of rice every year to cover his shortfall. But the scuba rice will allow him to plant on his low-lying ground and cover that shortage.
"These varieties," he says, "will mean more food, higher income, and a better livelihood."
Key facts and stats
In developing countries alone, more than 3.3 billion people depend on rice for more than 20% of their calories.
Rice is productive in wet environments where most other crops would fail but cannot survive if submerged under water for long periods of time.
DFID supports IRRI through its funding for the Consultative Group for Agricultural Research (CGIAR).
IRRI works to reduce poverty and hunger, improve the health of rice farmers and consumers, and ensure environmental sustainability through collaborative research, partnerships, and the strengthening of national agricultural research and extension systems.
In Novemeber 2010, IRRI will be holding the third International Rice conference, the largest conference for the rice scientists, researchers, and technology experts.
Published 15 October 2010