Case study
Somerset autism collection
Somerset libraries new collection of material on autism contributes to health and wellbeing across the county.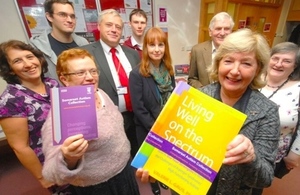 Contribution to corporate priorities
Somerset libraries are commissioned to deliver on five outcomes, including enabling people to make informed health and wellbeing choices. This new collection is one example of how their libraries contribute to health and wellbeing across the county and it supports outcomes defined within the Somerset Autism Strategy.
Description of the work
The Somerset Autism Collection is a project funded by Department of Health and Somerset County Council (SCC) and delivered in partnership between SCC Children's and Adults' Social Care, Public Health, Somerset Libraries and Somerset Clinical Commissioning Group.
Somerset Libraries have a well-established relationship with their health and social care colleagues, which has been boosted by the opportunities presented through the Society of Chief Librarians universal health offer, such as Books on Prescription. A version of the proven 'special collection' model was therefore felt to be applicable for the autism project.
The launched the Somerset Autism Strategy and Somerset Autism Collection in tandem in mid-November 2015. The collection includes 40 book titles and DVDs to support people with autism, their families, carers and friends, as well as professionals and the general public.
They worked with people living with autism and organisations like the National Autistic Society, Somerset Parent Carer Forum and other health and social care services to select the titles. The books include information, advice and a celebration of all things autistic, which are relevant to people directly affected by the condition and others who would just like to know more.
Outcomes achieved
Every Somerset library holds a selection of the books, with the full collections available at 5 libraries. They have also provided long term collections to relevant community organisations and childrens' centres across the county.
The project covered the display stands, promotional materials, and staff training, and has enabled free reservations and a 6 week borrowing period (double the usual loan period).
The collection is promoted via Somerset Choices, a web portal to a wide range of services and information to help people make informed choices around care and support.
The issue figures for the first month have been very positive; with 70% of the collection already out on loan. The 2 most popular books have been Self-determined future with Asperger Syndrome and Complete guide to Asperger's Syndrome.
Feedback from health professionals has been positive including: "quality information and a place to 'connect' – both invaluable for supporting and involving all those living with an autism spectrum condition".
Feedback from families and those living with autism has also been good: "Having more information about autism and aspergers is really important. It will help more people understand the challenges I face in day to day life, although there are many positive traits that should be highlighted."
Feedback from commissioners includes: "This has been a really positive example of different services and organisations working together to deliver positive outcomes for people on the autistic spectrum and their families and carers. None of this would have been possible without the commitment and enthusiasm of everyone involved, not least our colleagues in libraries."
It is being used locally within the care pathway with people being referred to the collections after receiving a diagnosis of autism.
Accomplishments
A key benefit for them was working with partners to promote the new collection. The project had significant support from the Public Health communications officer, which resulted in a highly successful launch event. The launch was a good networking opportunity.
BBC Radio Somerset broadcast from the library throughout the morning of the launch and included interviews with people on the autistic spectrum, Adult Social Care, Public Health and Clinical Commissioning Group and Somerset Partnership colleagues, all highlighting the benefits of working with libraries to reach large audiences.
They used the event to promote: * the recently launched cross-county WiFi service * Tinder Foundation's funded pop up skills centre * new Code Clubs
A young Summer Reading Challenge volunteer spoke brilliantly about her experience of libraries.
They were really delighted that the promotional materials included a 'cover star' who has Asperger's Syndrome. Shane spoke at the launch event and on the radio, with a friend Glenn about the common myths associated with those living with autism, which was very powerful.
Future plans
The collections have proved to be very successful very quickly and there's a risk that demand will outstrip supply. They therefore plan to review the extent of these to make sure we are able to meet expectations.
Additional resources
Published 16 December 2015