Case study
Smart Reamer: drilling technology can cut costs for oil explorers
Innovate UK support helps Slough company offer hard-pressed oil producers a cheaper, more accurate way of measuring deep water bore holes.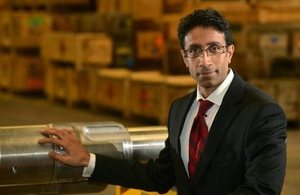 Volatility in the price of oil over the last year has sharpened producers' focus on costs of production as never before.
And that's good news for an innovative UK company, which has developed a measuring device that could save the off-shore oil industry as much as £1 billion per year.
Smart Reamer Drilling Systems is based beside the A4 in Slough, a world away from the unforgiving deserts and rain forests where its prototypes have been on test, successfully proving their worth.
With support from Innovate UK, the company has developed a patented system for measuring in real time the bore holes of oil and gas wells. Successful trials of the technology around the world have involved measurements totalling over 10,000 metres.
The company's founder, Wajid Rasheed said:
In a low-cost, low oil price environment our technology is even more compelling. And in South America, when we powered up our equipment after seven months on standby it worked instantly.
After testing it in a number of wells we are now finalising our first commercial contract.
Other orders are in the pipeline from customers in the North Sea and the Middle East.
Funding reduces development time
Innovate UK's involvement was crucial. The average time for a roll-out of new technology in the drilling industry is 20 years, but a grant of £175,000 allowed Smart Reamer to develop the Smart Reamer in a fraction of the time, along with funding from Saudi Aramco and Petrobras and internal investment.
A follow-on product, Smart Frac, also won feasibility study funding from Innovate UK through a competition which encouraged technologies for 'safe and responsible exploration of shale gas'.
It's a joint project with BG International that has shown our technology to be successful in detecting fractures in shale gas reservoirs.
We really appreciate the help and support from Innovate UK. It helped fill a financial gap and gave us credibility in the early days. We always found them to be prompt and helpful.
Private investment of $2.5 million
Smart Reamer has also recently secured private investment of $2.5 million to fund company growth. This has led to an increase in specialised staff, IP protection and accrual of tax funds back to UK plc.
It all started when Wajid worked for a company selling drilling tools to oil companies, specifically underreamers, machines that enlarge an initial bore hole with hydraulic cutters.
Underreaming is essential if oil companies are to get the most out of the deep water wells. First they make a pilot bore before enlarging it with underreaming and then lowering steel casings to be cemented in place inside the bore hole.
Acoustic and magnetic sensors
Traditionally, measurements have been taken with callipers, lowered down the bore hole after the underreaming equipment has been withdrawn. Aside from being inaccurate, Wajid estimates that the day or two lost taking these measurements costs an average £500,000 per bore hole on a deep water well.
Smart Reamer sends information back to the surface – or even thousands of miles away to a monitoring station – so adjustments can be made in real time.
It sits just above the cutters, using acoustic and magnetic sensors to take continual measurements and feeds back the information in a continuous loop to optimise the cutting operation. It has no moving parts and can be retro-fitted to any drilling assembly.
Some 95% of the work involved in making the Smart Reamer, including machining the steel casings and putting the electronics together, is done in the UK.
Published 5 February 2016