Case study
Sheffield steel technology saves lives on frontline
Manufacturer, Tinsley Bridge, develops vehicle suspension solutions for UK army vehicles in Afghanistan, with support from Innovate UK.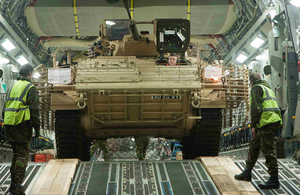 Sheffield based steel vehicle suspension manufacturer, Tinsley Bridge, was approached by British Aerospace Engineering (BAE) to help with an urgent problem.
The British army desperately needed to improve the suspension of its Warrior Infantry Fighting Vehicle and time was of the essence.
"They were increasing the weight of the vehicles and the suspension couldn't cope, and they came to us because we are experts in this field," said Mark Webber, Managing Director of Tinsley Bridge.
With funding support from Innovate UK, Tinsley Bridge was able to fast track the development of its suspension technology.
"We would never have produced the goods - or met the deadline - without the funding from Innovate UK."
Rising to the challenge
What the army needed was a tougher torsion bar - a long steel rod which acts as a spring in many truck suspension systems.
Fortunately Tinsley Bridge Group had been developing a new high strength material called Extralite for use in high strength springs.
The product had taken 10 years to develop and was designed to be shatter-proof at high strength levels.
"Theoretically we knew it should also work on suspension torsion bars but we'd never made one out of it before," said Mark.
The family-owned company applied for a research and development grant from the Innovate UK Smart scheme.
They were awarded £100,000, allowing Mark and his colleagues to develop and test the Extralite torsion bar within five months.
Not only was the new Extralite suspension system stronger, it lifted the vehicles higher off the ground, giving greater protection against mines.
Saving lives
The 2009 grant marked a new phase in the company's growth, by speeding up their research and development activity and increasing their ambition.
"The Army came to see us and the officer in charge of the fleet read out quotes from people involved in improvised exploding device incidents in Afghanistan where they believed it had saved their lives," said Mark.
Peter Luff, Minister for Defence Equipment and Support:
"Warrior vehicles are doing a tremendous job in Afghanistan and these numerous improvements are already proving their worth in theatre.
"This vehicle is extremely versatile, offering good mobility and high levels of protection for its crew."
Emissions regulations
Since the BAE/Ministry of Defence project, Tinsley Bridge has won two more grants under Innovate UK's Smart scheme for research and development.
A £136,000 grant has allowed the company to research the next evolution of Extralite.
The company is now working closely with Sheffield Hallam University on ways of heat-treating steel.
"We want to change the properties to make materials that are stronger, more durable and more ductile and then put them into high performance markets such as rail, defence and high end commercial vehicles," said Mark.
The market for lighter steel suspension has been driven by the emissions regulations that came into effect at the end of 2013.
These new rules force truck producers to put more after-treatment systems on exhausts operating at higher temperatures. To compensate for this extra bulk, truck manufacturers need to find weight savings elsewhere.
"The new material we are working on could allow suspension parts to be 30 per cent lighter," said Mark.
"It depends on the project and what flexibility you need. But it could be the equivalent of taking out 10 kilos."
Collaborative innovation
Another £38,000 Innovate UK Smart grant has been invested in blue-sky research into new composite materials.
Tinsely Bridge now has 174 employers and has forged close links with Sheffield Universities and Cambridge University.
The bonds between industry and academia are getting stronger and vital to the company's future success.
"A key reason we have been able to do what we have done is because we have found effective collaborations with universities," said Mark.
"The UK has lots of great ideas but isn't necessarily brilliant at getting those ideas into saleable product. Innovate UK is there to help companies like us do just that.
Published 10 March 2014