Case study
Schizophrenia treatment: funding enables next-stage trials
£2.4 million from Biomedical Catalyst funds next stage of development for drug to target psychiatric disorders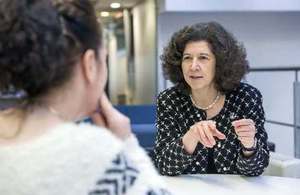 Schizophrenia is a chronic, disabling psychiatric disorder that affects 1% of the population, often with devastating effects on the lives of sufferers and their families.
Symptoms include abnormal thinking, losing contact with reality, hallucinations and social withdrawal. An estimated 20% to 40% of sufferers attempt to kill themselves.
Now funding from Innovate UK and the Medical Research Council, channelled through the Biomedical Catalyst programme, is supporting research into a new drug which could make a significant difference to the treatment of schizophrenia.
The latest chapter in this development has seen Autifony Therapeutics awarded £2.42 million of late stage Biomedical Catalyst funding in March 2014 to start clinical trials of its drug, AUT00206. This collaborative project, with total costs of £3.27 million, also involves The Institute of Psychiatry, Psychology & Neuroscience, King's College London, the University of Manchester and Newcastle University.
Charles Large and Giuseppe Alvaro founded Autifony Therapeutics in 2011 as a spin-out from GlaxoSmithKline where they had been directors in the group's Neuroscience Centre of Excellence for Drug Discovery.
Early stage funding
They were convinced that malfunctions in proteins (known as Kv3 ion channels) on neurons might be responsible for a number of disorders. Their initial focus was on hearing loss and tinnitus, but they also saw a possible application in treating schizophrenia. Charles, Autifony's chief executive officer, said:
In higher cortico-limbic brain circuits, in schizophrenia, malfunctions have been consistently observed in inhibitory neurons that express Kv3 ion channels. So drugs that target these channels may help to treat this serious illness as well.
Autifony Therapeutics has grown to a workforce of 14 people based at Imperial College's start-up incubator in London, and in Verona, Italy.
Working on the schizophrenia treatment with their academic partners at Manchester and Newcastle, Autifony first received £1.9 million in early stage funding from the Biomedical Catalyst, towards total project costs of £2.75 million.
That successful preclinical collaboration will continue in support of the clinical studies funded by the late stage Biomedical Catalyst award. These clinical trials will include a Phase 1b trial in patients with schizophrenia, to explore the effects of the drug on biomarkers of the disease. Charles added:
Thanks to the grant we were able to work as an extended team with our academic partners to confirm aspects of the hypothesis linking Kv3 channels to schizophrenia. We now have a compound ready to start clinical testing.

It's extremely difficult to translate theoretical ideas into clinical reality for psychiatric disorders. We would not have been able to tackle the project on our own.
Multi-billion dollar market
Autifony will eventually be looking for partners to support the later stages of development of its schizophrenia compound. Full clinical trials to demonstrate that the drug is both effective and safe will be costly, at more than £100 million, and protracted.
However, the potential market for an effective treatment for schizophrenia is enormous, as Barbara Domayne-Hayman, Autifony's chief business officer, explained:
The market for schizophrenia drugs today is worth around $7 billion worldwide – for drugs that are only partially effective. There's a multi-billion dollar market waiting for an effective drug. We're already talking to a number of possible pharmaceutical company partners, and expect two or three front runners to emerge.
As CEO, Charles is in no doubt about the importance of support from the Biomedical Catalyst programme:
There's still a long way to go, but the Catalyst funding has helped us clear some major hurdles and is enabling Autifony to take its second programme into clinical trials, which is an important milestone for the company.
Published 28 May 2015