Case study
Salford University receive the Commissioner's certification mark
Salford University have shown compliance with the surveillance camera code of practice.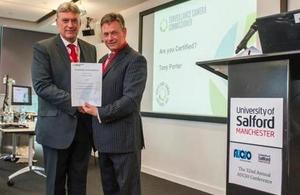 The Surveillance Camera Commissioner's third party certification scheme enables organisations to clearly demonstrate that they comply with the surveillance camera code of practice. For relevant authorities (such as local authorities and police forces) this is particularly important, as they must show due regard to the code. For other organisations, compliance with the code is voluntary.
Salford University have recently achieved step 2 certification. They're not an organisation that is legally required to comply with the code – so why apply? Trevor Jones, Head of Security at Salford University, said:
The university believes that following the code is nationally recognised as best practice for CCTV operations. Applying for and attaining the Commissioner's certificate, and being able to use the certification mark, demonstrates to our students, staff and visitors that we operate CCTV to the best standards possible.
Secure campuses
For many young people, going to university or college is probably their first experience of living away from home. Many probably don't give much thought to their safety or who's looking after them. Do they securely lock their laptops, smart phones and tablets away? Are their doors and windows secure, is the campus safe and who can they call in an emergency? For many parents, their children's safety is almost certainly at the forefront of their minds.
Jones added:
Achieving certification against the code shows to potential students and their families that the university takes their safety and security extremely seriously – to be recognised by the Surveillance Camera Commissioner as an organisation that reaches the highest standards is a powerful statement.
Simple, accessible and affordable
Certification is simple, accessible and affordable and there are 3 security industry certification bodies that are currently qualified to audit against the code of practice – the SSAIB, NSI and IQ Verify.
There are 2 steps to certification: the first step, desktop certification, is aimed at organisations that are working hard to achieve full compliance with the code but are aware that they may need more time to become fully compliant. The second step, full certification, is for organisations that are close to or fully compliant with the code. Salford University are certified against step 2.
We already had BS7958 (the British standard for control rooms) in place as well as all the relevant governance and documentation, so the process was very easy for us. Though I imagine if you don't have BS7958 the process will still be relatively easy. If you run a good system and control room you should meet all the requirements.
What they did
To achieve the full certification mark, Salford invited an auditor from one of the certification bodies into their CCTV control room to audit their system, cameras and procedures, working with a checklist against the 12 guiding principles in the code. The audit took place over a day. During the visit Salford were required to provide various documentation such as privacy impact assessments, procedures manuals and information sharing agreements for the auditors to inspect.
Salford passed with flying colours and were awarded full certification – the Commissioner presented them their certificate at a recent conference. They are now also able to proudly display the Commissioner's certification mark on their website and other publicity materials. This mark demonstrates clearly to all students, teaching staff and visitors to the university that they use their surveillance cameras effectively, efficiently and proportionately, that they comply with the 12 guiding principles in the code
Trevor said:
I would certainly recommend the certification scheme to other universities – in fact I think it should be mandatory! It's excellent value for money too simply because of the huge reputational value it offers.
Find out how you can have your scheme certified against the surveillance camera code of practice.
Published 8 November 2016