Case study
Robotic spider may be the answer in spent fuel ponds
'Latro', an agile robotic spider, is one of the most recent additions to the array of tools available to deal with nuclear material in fuel ponds.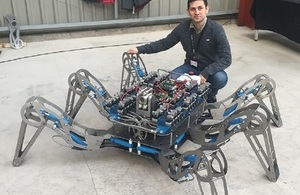 Challenge
Develop equipment able to manoeuvre around hazardous legacy facilities to retrieve and deal with waste or equipment.
Solution
Agile remotely operated vehicle with climbing and self-navigating capabilities and potential to carry a range of tools.
Technology
Latro robotic spider
Benefits
Latro can retrieve, characterise and cut up materials, minimising worker dose while speeding up decommissioning and cutting costs.
Innovation route
Collaboration between an SME and a university, funded through an Innovate UK call, co-supported by the NDA.
Details
Contaminated radioactive environments that are too hazardous or difficult for workforce access pose a constant challenge for decommissioning.
Additional difficulties arise when remotely operated vehicles (ROVs) with tracks or wheels disturb waste and struggle to deal with rough ground.
One of the newest additions to the toolkit of robotic equipment is a nimble spider (Latro) that can step delicately round obstacles or climb over them to reach where it is needed for characterisation or even decommissioning work.
With a wide range of tools including camera equipment, powerful cutters, laser scanner and smart software, Latro can navigate over items using its own internal sensors, relaying back information to the remote operators via live 3D imaging.
Latro can also grab waste or items such as a scaffold pole, cut them up and drop the pieces in a skip.
Its hydraulically operated stainless steel legs are strong enough to carry heavy weights.
Further development will enable it to walk under water potentially picking up, size reducing and transferring radioactive material from Sellafield's most hazardous ponds.
Latro was developed by the University of Manchester and the hydraulics specialist Forth Engineering, an SME based in Maryport, Cumbria. Collaboration between academia and industry has brought together complementary skills in electronics and hydraulics, benefitting all parties.
Status
Currently undergoing further development to build new model with additional dexterity; additional testing in off-site underwater facility and on site.
Research organisations
Published 4 November 2016