Case study
Raising teaching standards in school sport
Examples of schools which have improved sports teaching through staff training and using specialist coaches.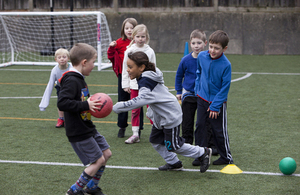 Continuous professional development and teacher training
Our Lady's RC Primary School in Manchester has made PE teacher training and support a priority. Staff inset days are used for training and planning, and teachers are sent on relevant courses. They are also observed and supported by a specialist teacher and this has helped to increase the teachers' confidence and enjoyment when taking PE lessons.
The school has received many accolades for its outstanding sports teaching, including being selected to work with the Association of Physical Education and the Youth School Trust to demonstrate high-quality PE lessons.
Using qualified coaches and specialists
St Brigid's Catholic Primary School in Birmingham hires a coaching company to run regular 6-week training programmes in PE. The coaches work alongside class teachers during PE lessons to give teachers the skills and confidence to then take the classes themselves. This type of specialised training will have a lasting, long-term impact on sport and PE teaching at the school.
Published 13 February 2014