Case study
Testing protected cycle lanes in Salford
Salford city council have tested protected cycle lanes to improve cycling in the area and increase the number of journeys made by bike.
What we did
Salford city council in partnership with Transport for Greater Manchester created protected cycle lanes in 2 trial sites, using pre-cast dividing features (armadillos). The protected lanes, also known as light segregation, deter vehicles from entering a mandatory cycle lane.
Both trial sites were along a key cycling corridor connecting Salford to central Manchester and are part of National Cycle Network route 55. Prior to the scheme there were advisory cycle lanes along the road.
One of the trial sites, Middlewood Street, is on a section of road on a bend with a downhill gradient, the other, Liverpool Street, is an approach to an advanced stop line.
Why we did it
Greater Manchester has a vision of making cycling an aspirational and attractive travel choice for everyone, with the aim of increasing the proportion of trips that are made by bike to 10% by 2025. The creation of a regional network of cycle routes where cyclists are segregated from other traffic wherever possible is an important part of this.
Use of this type of segregation is relatively new to the UK. When we implemented the trial sites in 2014, the only other light segregation scheme in the UK was on Royal College Street, a one-way street in Camden, London.
Objectives of the trial sites in Salford were to:
test the durability of the light segregation features
better understand their effectiveness and legibility for all road users
learn lessons such as the placement and spacing and road marking configuration in order to inform the design of a full scheme on Great Clowes Street and Blackfriars Road
How we did it
We chose 2 trial sites to test the segregation products in differing traffic environments, both with existing on-carriageway with-flow cycle lanes.
The Middlewood site is on a downhill gradient and a bend, with a high proportion of HGVs due to the surrounding industrial land uses. The Liverpool Street site is between two signal junctions, enabling testing of the vehicle interactions/usage on the approach to traffic signals.
Both cycle lanes were protected using physical lane delineators (armadillos) manufactured from recycled tyres. A hole is drilled in the carriageway to receive a 'plug' which is resin-bonded into the tarmac. The delineator is then bolted down using a bolt approximately 150mm long to secure it.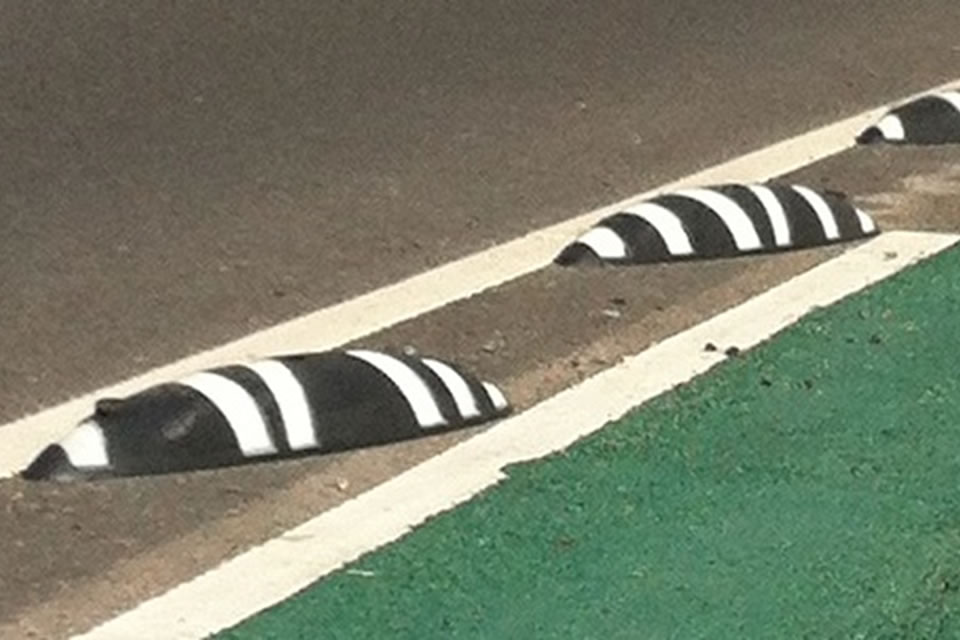 We spoke extensively with stakeholders and the manufacturer both before and during the trial period.
We tested different arrangements of the armadillos (in-line and angled) at the 2 sites so that driver and cyclist behaviour could be observed. We also consulted users, in particular the local cycle forum, to agree the best layout. We trialled different arrangements to mark the start of the light segregation.
What we learned
Despite initial reservations from some stakeholders and teething problems with installation, overall the trial sites were well received. We learned some important lessons.
Splitter islands
After installation it was clear that we needed to mark the start and end of the segregation features more prominently to increase their visibility to general traffic. A narrow protective island made of pre-cast rubber with two retro-reflective bollards was added a month into the trial.
Splitter islands with 2 0.8m high poles are now in the final design for the Great Clowes Street and Blackfriars Road cycleway positioned at the beginning of each section of light segregation and at regular 25m intervals to provide a visible line of sight for general traffic. This frequency makes them more conspicuous and the islands effectively define a 0.4m 'buffer zone' offering protection to cyclists from passing vehicles. This buffer zone is reinforced by the armadillo units.
Orientation of armadillos
We trialled both in-line and angled armadillos. Observations and user feedback from the trial were that the angled armadillos were more visible to passing motorists, and enabled cyclists to exit the cycle lane more easily, but made cycling from the carriageway into the cycle lane harder than the in-line arrangement.
The manufacturers do not recommend using the angled arrangement on bends. The in-line arrangement worked better for users entering and exiting the facility and can be used in all scenarios and carriageway alignments. Following the trial, the in-line arrangement has been selected for the full scheme on Great Clowes Street and Blackfriars road.
Spacing of armadillos
Following the trial a typical armadillo unit spacing on the Great Clowes Street and Blackfriars Road cycleway scheme will be 3m (leaving about 2.2m gap between each unit) with 3 to 7 armadillos between splitter islands. The units will be centrally positioned within the 0.4m buffer zone, following the alignment of the splitter island poles.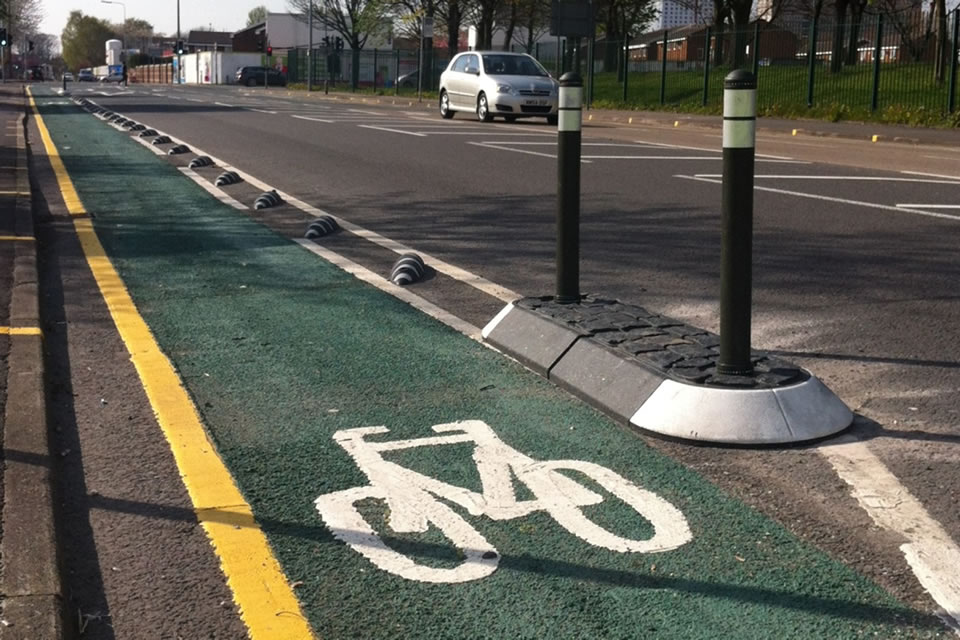 Cycle lane width
As with any form of segregation, maintaining an acceptable effective cycle lane width is important. Reflecting on the trial, the Great Clowes Street and Blackfriars Road cycleway scheme has been designed to maximise the effective available cycle lane width by adopting a consistent reduced lane width for general traffic of 3.25m in each direction throughout. This takes account of the use by bus services, and retains a minimum 1.5m effective cycle lane width (kerb face to inside face of splitter island) plus the 0.4m 'buffer zone' of splitter islands and light segregation. In practice these dimensions will be used at pinch points and significantly wider cycle lanes will be possible throughout much of the corridor.
Road markings
The final design for the Great Clowes Street and Blackfriars Road scheme includes a single mandatory cycle lane marking on the traffic side of the light segregation.
The trial sites also included an advisory cycle lane (Diagram 1004) road marking on the inside (cycle lane side) of the light segregation features. But the Department for Transport confirmed that such an arrangement does not conform to the Traffic Signs Regulations and General Directions (TSRGD) and is not authorised for use. It's also important to note that light segregation should only be used to provide protection for a mandatory cycle lane (a lane that all other traffic is prohibited from using, including motorcycles).
Status of armadillos or similar features
The Department for Transport does not consider armadillos to be traffic signs or road markings, so they don't require DfT signs authorisation. It's the decision of the individual highway authority to determine:
whether or not they have the appropriate powers to install armadillos or other light segregation features as street furniture
their acceptability on a location-specific basis
Future plans
The Great Clowes Street and Blackfriars Road cycleway scheme is due for completion in March 2016. The total cost of implementing it will be approximately £900,000. This includes 4.2km of protected cycle lanes (2.1km per direction) including continuous high quality coloured surfacing, over 115 splitter islands and over 400 armadillo units. Once completed it will be the largest application of light segregation in the UK.
Light segregation offers a viable alternative in areas with limited available highway space to provide protection for a mandatory cycle lane. It's a low cost alternative to full kerbed segregation, whilst still providing many of the benefits, and protects cyclists from general traffic more than conventional cycle lanes without any physical segregation.
Success of these trials is now significantly influencing adoption of light segregation principles more widely in Greater Manchester, with a number of other schemes in the developing Greater Manchester Cycle City programme incorporating elements of light segregation. Experience from both the trial sites, and the construction of the full scheme on Great Clowes Street / Blackfriars Road scheme, will also inform the next revision of the Greater Manchester Cycle Design Guidance.
Contacts and further information
Lee Evans
Transport Policy Officer
Salford City Council, Salford Civic Centre,
Chorley Road, Swinton, Salford, M27 5FJ
Telephone: 0161 793 3801

Email: lee.evans@salford.gov.uk
Website: Salford city council
Dominic Smith
Cycling Infrastructure Manager
Transport for Greater Manchester
2 Piccadilly Place, Manchester M1 3BG
Telephone: 0161 244 1293

Email: dominic.smith@tfgm.com
Website: Transport for Greater Manchester
Download a ZIP file containing larger images, reports and plans (1.1MB).
Published 27 March 2016