Case study
Producing Cardboard Boxes in Afghanistan
Making recycling profitable – thanks to UK and Danish Aid to the ABIF, Arya Mellat is leading business innovation in Kandahar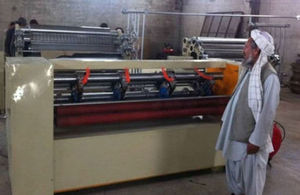 Cardboard packaging materials are in high demand in Afghanistan. They are particularly necessary for farmers and food & beverage companies, who often suffer substantial losses as they transport their produce along the unpaved and bumpy roads that connect rural areas to towns and cities across the country. Although there are some box producers in Afghanistan, they cannot meet local demand, and many cardboard boxes are still imported from neighbouring Pakistan.
Mr. Mushkani, a businessman from Kandahar province, approached the Afghanistan Business Innovation Fund (ABIF) 14 months ago. The Afghanistan Business Innovation Fund provides grants to Afghan entrepreneurs who have innovative ideas for businesses which particularly benefit poorer Afghans, whether by creating jobs or producing useful products. ABIF is co-funded by the UK and Australia.
Mr Mushkani's ambition was to upgrade his business into a factory that could produce high quality cardboard boxes from recycled waste paper. Before, Mr. Mushkani's Arya Mellat company had only limited capacity to produce basic corrugated paper. This then had to be sold to other companies to be assembled into finished cardboard boxes. Thanks to a co-investment grant and technical support from ABIF however, Mr Mushkani has now been able to bring a full cardboard box production line to Arya Mellat.
Over the past 14 months, ABIF has helped Mr. Mushkani and his company to identify the machinery that is required for box production and work out the logistics of shipping it to Kandahar. ABIF has also assisted him in hiring technical experts to install the machinery, and to switch from manual records to computer based recording. At his Arya Mellat factory, Mr. Mushkani has already installed corrugated paper making machinery which enables him to produce corrugated cardboard from scrap. The remaining sheer printing machinery, which will allow the entrepreneur to produce good quality finished cardboard boxes, is currently on its way to his factory in Kandahar.
Besides helping Mr. Mushkani to expand his business, the ABIF investment has had a wider impact on the community. Because Arya Mellat relies on individuals to collect waste paper and bring it into the factory, more than 1,500 people around Kandahar have benefited from an increase in their income.
Sharifullah is one of the suppliers of waste paper to Arya Mellat. Before starting this job, he struggled to find work. He says, "Before, I used to be a basic labourer.It was very tough to find paid work on a regular basis. But now I am one of the main suppliers of waste paper to Arya Mellat and earn a regular wage. In this area there are 28 people working with me as waste paper collectors and they also earn up to 15,000 Afs [roughly £165] a month".
Mathiullah is another of Mr. Mushkani's suppliers. He is a 22 year old from the Shorandam area of Kandahar and is the only member of his family earning a regular income, "I opened a shop to buy waste paper from individual collectors and sell it on to Arya Mellat. This is the only source of income for my family of 7. It isn't much, but it has helped me to continue my education".
Mr. Mushkani is currently exploring the possibilities of making some innovative modifications to his existing paper making machinery, so that he could use agricultural waste as input material to make the corrugated paper. He is also looking to gain access to a wider market for his cardboard boxes by targeting established industries outside the Kandahar industrial park where his factory is based.
Right margin fact box:
Total investment: £411,829, ABIF's share is £130,576
Waste paper purchased: over £73,164 from 1666 suppliers
Total capacity of box production: 75,000 boxes per month
Published 30 April 2015