Case study
ProDecon develops strategy to grow exports to 40% of turnover
ProDecon, the UK's leading contractor in process decontamination, expands in India and the Middle East with help from UK government.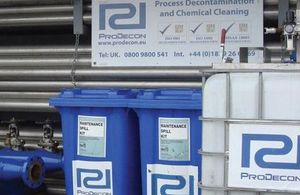 This company was assisted by UK Trade & Investment (UKTI) , which has since moved to the Department for International Trade (DIT).
Environmental decontamination specialist ProDecon has recently secured £330,000 worth of new work from overseas markets, accounting for 10% of its turnover. It has also put in place a strategy that will see exports grow to 40% of its turnover in the next 2 years after working with a UK Trade and Investment (UKTI) International Trade Advisor (ITA).
Alan Kidd, Managing Director at ProDecon said,
There's no 'one-size fits all' approach to exports – different markets require careful consideration to arrive at the right approach. UKTI has been a great help to us in identifying and assessing our options.

I recommend anyone looking to new markets to take all the advice they can get - UKTI can save you so much time and help you reach informed decisions that have a positive impact on your business.
Business development in India
ProDecon established a relationship with Bharat Petroleum Corporation Limited (BPCL), one of the largest public sector oil marketing companies in India after an approach by 2 Indian businessmen. The company then secured a £230,000 contract in November 2013. Alan Kidd flew to India to meet BPCL in person in early 2014 to cement the relationship.
Meanwhile ProDecon accessed UKTI's services, and as a result ProDecon staff attended masterclasses on important exporting issues and received matched funding financial support towards the costs of hiring a marketing consultant
This support enabled the company to:
prepare for business in international markets
improve its website
develop a new marketing strategy
understand the options available for doing business in India
Developing export sales in the Middle East
ProDecon registered a trademark in January 2014 to protect the ProDecon name and products in Saudi Arabia. It then granted a licence to a local business that is registered as a supplier to Saudi Aramco. Over £100,000 of business has since been secured in this market.
ProDecon also contacted UKTI in Abu Dhabi asking for a list of potential partners and business formation specialists. Following discussions and guidance, ProDecon is currently negotiating with 3 potential local partners with a view to opening up a permanent presence there.
About ProDecon
ProDecon was established in Nantwich, Cheshire in 2009 and has a turnover of £2.5 million.
Its client list includes big names such as international oil and gas giant ExxonMobil and Saudi Aramco.
Fast facts
Company: ProDecon
Industry: Environment
Target markets: India, Saudi Arabia, Abu Dhabi
Website: www.prodecon.com
Published 27 May 2015