Case study
Primary Authority helps Acorn Stairlifts comply with the rules
A Primary Authority partnership with West Yorkshire Trading Standards helped Acorn Stairlifts develop and grow.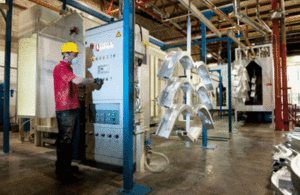 Primary Authority support for Acorn Stairlifts has helped the business to reduce complaints and stay compliant. This Trading Standards support has helped Acorn to develop its ambitions and grow its operations.
Primary Authority helps businesses comply with legislation by partnering with a local authority that can advise them on regulatory matters. Acorn Stairlifts chose to partner with its local authority, West Yorkshire Trading Standards, to make sure it is operating within the rules when it came to selling its popular mobility products.
Acorn's Company Secretary Dave Belmont said:
"Receiving excellent support, guidance and training from West Yorkshire Trading Standards has allowed Acorn to grow both our business both in the UK and abroad."
Primary Authority boosts confidence
Acorn was keen to use its partnership with WYTS to develop its complaints handling and customer services standards. Thanks to training and guidance from WYTS, the team at Acorn better understand how the Consumer Rights Act 2015 affects their work. This has helped the business avoid problems related to how it markets its products. The business can be more confident that it is compliant, and focus its resources more effectively.
By improving its approach to regulation, the Yorkshire-based company has joined Trustmark and the British Healthcare Trades Association with its Trading Standards approved code of conduct. The company gained ISO10002:2014 accreditation for its complaints handling, and received a Buy with Confidence accreditation.
Avoiding problems
WYTS helps Acorn identify any areas of concern and improve its procedures in order to avoid future risk. The primary authority supports the business by informing it of any calls made to Citizens Advice about Acorn's products and services. This enables the company to nip potential problems in the bud. WYTS also writes to consumers requesting permission to forward their details so the company can investigate any issues.
This approach helps the company avoid any problems that might arise, and focus its attention on any areas they need to improve. It's an example of how a primary authority can help businesses to improve customer service and compliance.
About Acorn Stairlifts
Yorkshire-based Acorn Stairlifts develops and designs some of the world's best selling stairlift ranges. With factories in the UK, and worldwide distribution centres, this family-owned business sells more than 60,000 stairlifts worldwide each year making it a major British export success story.
Published 23 April 2016