Positive about stopping HIV suffering
How men with HIV are helping others to stay safe and healthy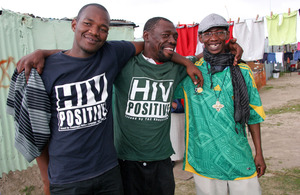 Half and hour's drive from the World Cup Green Point stadium in Cape Town, 31-year-old Lungisa Jack Mndende sits outside his house with his wife and two young children and a huge smile on his face.
"I keep fit, I don't drink or smoke now and I feel healthy," he says.
"Joining Treatment Action Campaign's programme has motivated me again; it has given me my life back."
Lungisa Jack Mndende, or Jack as he prefers to be known, speaks fast. He has much to say now but his renewed life has come at a hefty price.
Eleven years ago, after years of many girlfriends and "never a thought about using condoms", he was diagnosed as HIV positive.
"In my teens I had lots of girlfriends, often younger than me.
"I never even thought about condoms and sometimes my friends and I would get drunk or do drugs and have sex. It was normal for guys around me to behave like that.
"But I spent some time in prison and my attitude changed. When I came out I went for an HIV test.
"Now I help educate other men in Khayelitsha about HIV and staying safe."
Talking from experience
In 2004, Jack met a Treatment Action Campaign (TAC) volunteer while repairing shoes on the streets of Khayelitsha, Cape Town's largest township.
Founded 12 years ago, TAC's main objective is to campaign for treatment for people with HIV and to reduce new HIV infections. 
Jack started going to support meetings at one of their centres and got help as he faced up to a life with HIV. After learning more about TAC he decided to train as an educator and today Jack helps thousands of men through the organisation's prevention, treatment and literacy programme.
He educates men about antiretroviral drugs and HIV, leads counselling sessions with individuals and groups and encourages men to get HIV tests.
"I see many men who come to the TAC centres. I tell them of the dangers of too much drink and taking risks with unprotected sex," he says.
"I know the damage these things can do better than most."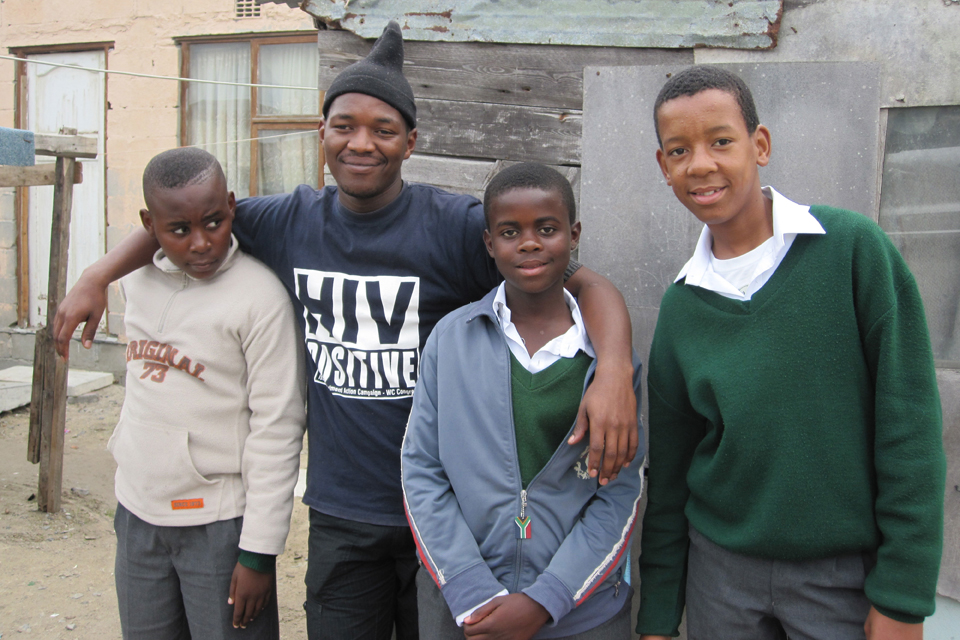 TAC's prevention, treatment and literacy programme also runs workshops and youth activities and distributes 500,000 free condoms every month, which Jack helps to hand out.
Over the last three years, UKaid from the Department for International Development has supported TAC's work with a £900,000 grant. And through SARRAH - a new HIV and health programme launched in 2010 - TAC will receive approximately £500,000 of UKaid each year for the next five years.
Tackling the epidemic
South Africa has the highest number of HIV and AIDS cases in the world, with around 1,000 South Africans dying from the disease every day.
Stigma and discrimination against people living with HIV remains unacceptably high and South Africa's health system is divided and overstretched.
Find out more about DFID's work in South Africa
But TAC's work in Khayelitsha, where Jack lives, has demonstrated that it's possible to manage the HIV epidemic in developing countries.
More than 5,000 people are receiving antiretroviral treatment in clinics in the township and community work, including the promotion of sex education in schools, has helped to deal with discrimination issues. 
A new start
When Jack found out he was HIV positive he thought the nurse was joking. He was told he would die shortly and that he should stop having girlfriends.
But instead he started educating other men about HIV and went back to school.
"I said to myself, life must go on. I was much older than the other children in my class but I was determined to finish my education.
"I want to help others live happy and healthy lives." 
Facts and stats
There are 5.7 million people living with HIV in South Africa. Of that, three million are women over the age of 15 years and 280,000 are children.
On average, nearly 1 in 3 pregnant women are HIV positive.
There are an estimated 1.4 million AIDS orphans in South Africa.
DFID support has helped TAC to increase countrywide mother-to-child transmission prevention, extend antiretroviral treatment and campaign against violence against women. It has also helped to give TAC a voice on regional and international platforms (eg G8 and G20) to campaign for more health resources.
The South African government launched a mass mobilisation campaign to counsel and test 15 million South Africans by June 2011. As a result, it is anticipated that an additional 2.3 million people will start HIV treatment by 2012.
Published 25 June 2010