Case study
Phasefocus: revolutionary lens attracts £9.6 million investment
A virtual lens that tracks individual cells is revolutionising the way effects of potential drugs can be analysed in real-life conditions.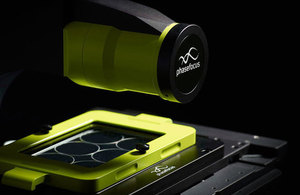 Imaging and microscopy business Phasefocus is revolutionising the observation and analysis of cells, materials, processes and products at the micro and nano scale – and with unprecedented clarity and accuracy.
The Sheffield-based disruptive technology company has recently attracted £9.6 million in venture capital.
It is commercialising a novel microscopy method called 'ptychography', which uses a computer rather than lens for image formation.
Its new unique Livecyte® product automatically tracks and analyses the behaviour of individual biological cells and cell populations in culture over periods of many hours or days.
This information is used to analyse the effect of pharmaceutical drug candidates on the cells.
Test results are much closer to real life
It is a very gentle method that can produce results that are much closer to real life because it uses extremely low light intensities and needs no stains or fluorescent dyes.
The company is now turning its focus to growth.
Published 25 October 2016