Case study
Overseas sales soar for Simworx following support from UKEF
Midlands-based company expands into China and Vietnam thanks to innovative financing.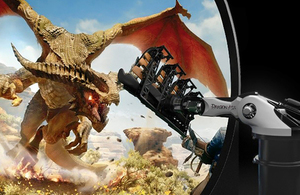 When entertainment supplier Simworx bid for a £46 million contract with a major theme park developer in China, it was asked for an advance payment guarantee that would have placed significant constraints on its cashflow.
HSBC and UKEF create solution
Fortunately, its bank, HSBC, introduced Simworx to UK Export Finance (UKEF), the UK's export credit agency, which was able to provide a guarantee under its Bond Support Scheme. The guarantee, for 80% of the value of the advance payment bond, significantly reduced the amount of the deposit required, and was provided quickly and seamlessly through UKEF's new partnership with HSBC.
Simworx secures extra success
This meant that Simworx was not only able to secure that contract, supplying three major rides to four new Chinese theme parks, but also could continue to take on new contracts, like a mini flying theatre attraction for a wildlife park in Hanoi, Vietnam. UKEF is also supporting a number of these new contracts.
Terry Monkton, Managing Director at Simworx, said:
Working with UKEF has been a very positive experience, helping us to bring in tens of millions of pounds worth of business that we otherwise would not have been able to secure. As a business that relies on exports, the support offered to us by UKEF has already become invaluable.
Anne Lockett, Export Finance Manager for Herefordshire, Worcestershire, Shropshire and the Black Country, said:
Helping UK businesses of all sizes to win, fulfil and get paid for export contracts is at the core of UK Export Finance's mission. Our new partnership with the five major high street banks allows companies like Simworx to access trade finance support quickly and easily. I am delighted to see the success that Simworx has had since it started working with UKEF.
About Simworx
Based in the West Midlands, Simworx designs, manufactures and delivers dynamic simulators and 4D effects cinemas to theme parks, museums, zoos and other attractions around the world. From the 'Kung Fu Panda: Unstoppable Awesomeness' ride at Motiongate, Dubai – which features boat-themed motion simulators and a 4K 3D projection system as well as wind and water spray – to the 'Lost Temple' Immersive Tunnel at Moviepark Germany, Simworx designs, develops and manufactures world-renowned innovative and dynamic attractions.
More information
Published 8 October 2018