Case study
Overcoming Disability
UKaid is helping Afghans with disabilities set up new businesses.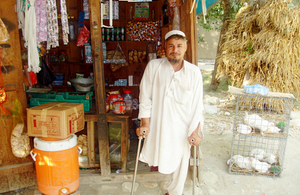 A key supporter of the Afghanistan Rural Enterprise Development Program (AREDP), the UK is helping people with disabilities across Afghanistan earn a better living through business support loans.
People with disabilities are frequently denied access to even basic levels of education and have to rely on the support of their family and friends. Having successfully piloted a programme to support persons with disabilities, AREDP are now expanding their programme to other areas.
Abdul Bashir, from Parwan, is one of the people directly benefitting from this programme. Physically disabled with only one leg, Abdul is still the sole breadwinner for a family of eight. Before enrolling in the programme provided by AREDP, he was having difficulty providing for his family. Now, after receiving training in business and marketing skills, he has established his own grocery shop.
Abdul Bashir now earns around 700-1000 AFN per day. He is able to support his family and provide them with a better quality of life. AREDP has brought hopes to the lives of over 130 people living with a disability like Abdul Bashir, in different provinces across the country. The programme will continue to expand to support sustainable livelihoods of men and women in rural areas.
The UK is a key donor to the Afghanistan Rural Enterprise Development Program, which supports business ideas and livelihood projects across Afghanistan.
Published 12 November 2015