Case study
Orders follow trade fair visits for Penny Seume
British textiles and homewares designer Penny Seume has twice exhibited at the International Contemporary Furniture Fair (ICFF) in New York, thanks to financial support from UK Trade & Investment (UKTI).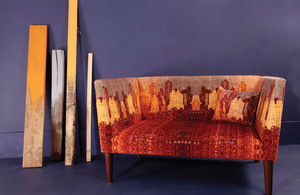 This has resulted in repeat orders for her products from ABC Carpet & Home stores in New York.
Penny takes her inspiration from urban landscapes. She then uses traditional fine art techniques and contemporary digital print to create bespoke and limited edition high quality fabrics and home accessories.
Whilst visiting New York in 2011, Penny attended the ICFF and the New York Design Centre, to see which high-end retailers were interested in at the time. When she got home to the UK, Penny contacted UKTI for advice about selling her work in New York.
An International Trade Adviser (ITA) put her in touch with the British European Design Group (BEDG), which gets funding through UKTI's Tradeshow Access Programme (TAP) to take British companies to interior design shows. As a result, Penny was able to show her products at ICFF in May 2012, in a group of 20 British designers.
Without the TAP funding that BEDG got from UKTI, I wouldn't have been able to afford to exhibit at ICFF,
says Penny.
Going there for the first time as part of a British delegation and with the support of BEDG and UKTI was invaluable.
Repeat orders
Penny came away from ICFF 2012 with a new list of contacts with whom she now keeps in touch via a regular newsletter. Several orders for velvet pillows from ABC Carpet & Home followed this first show. When Penny exhibited again at ICFF 2013, ABC came to see her new Urban neutral linen collection and these are also now stocked in its stores.
Penny has also had financial support from UKTI to attend Maison & Objet Paris in France and Ambiente, a consumer goods trade fair in Germany. Today, around a third of her business comes from outside the UK, primarily from the US.
Breaking into new overseas markets can be a long and daunting process, but I've found that UKTI has something to offer every step of the way,
says Penny.
My ITA was a really useful sounding board to bounce ideas off. Having UKTI funding to attend international shows and exhibitions has allowed me to get my name known outside the UK, and meet important buyers in the industry. When I have questions about exporting, I send an email to UKTI and they get back to me with an answer that I know I can trust. In short, UKTI is a wonderful resource for British exporters.
Fast facts
Company: Penny Seume
Sector: Creative Industries
Target Market: US
UKTI Services: Tradeshow Access Programme, Events
Website: www.pennyseume.com.uk
*[BEDG}: British European Design Group *[ICFF]: International Contemporary Furniture Fair
Published 19 March 2014