Case study
Open data: free map of Great Britain for Minecraft game
The Ordnance Survey has created a Minecraft map of Great Britain freely available to players as OS open data.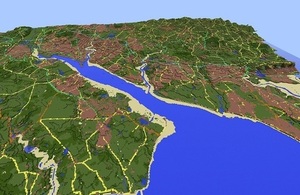 The national mapping authority Ordnance Survey has used free OS Open Data products to build a virtual version of Great Britain for the popular 'open world' building game Minecraft.
The new world, which is made up of more than 22 billion blocks and represents more than 224,000 square kilometres of Great Britain, is now available to download by any of Minecraft's 33 million active users with a licence.
Minecraft is a virtual world made up of cubes representing different materials. Players can explore the world and use these blocks to create structures or other items, as well as battling monsters. There are currently around 33 million active players of Minecraft.
Players can use the new world to fly across the country and see different environments such as Snowdonia, Poole Harbour and central London, as well as build their own structures on a realistic landscape.
The map was created in only 2 weeks by an intern working in the OS Innovation Lab. Graham Dunlop, OS Innovation Lab Manager, said:
We think we may have created the largest Minecraft world ever built based on real-world data.

The resulting map shows the massive potential not just for using Minecraft for computer technology and geography purposes in schools, but also the huge scope of applications for OS OpenData too.
Get involved
If you'd like to see more great apps using open data or find out more about how they are made, visit www.data.gov.uk or tell us which of our unpublished datasets could bring economic or social benefits.
Use the search function to find data that's important to you and click on the dataset to add your feedback.
Published 24 October 2013