Case study
OakTec: global demand for low-emission engine
Engineering specialist OakTec has developed an innovative bio-gas engine that offers a low-cost, environmentally-friendly alternative for powering vehicles.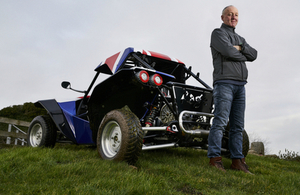 Lancaster engineering business OakTec is on the verge of commercialising a high-performance, low-cost and environmentally-friendly gas engine for vehicles.
What's more, the engine has applications for electricity generation and as a range-extender for electric vehicles.
Interest from overseas could see the company supply to Europe, Africa, Asia and the US.
Engine works with a range of gas fuels
OakTec's Pulse-R is a low-emission, internal combustion engine that works with a range of gas fuels, including liquid petroleum gas, compressed natural gas, bio-gas and hydrogen.
It has a high-tolerance against poor fuel quality. This makes it well-suited to supply the growing global market for burning bio-gas, in which quality can vary.
In addition, the engine can be bolted on to a micro-digester to generate electricity. It can also be used to power generators and equipment on construction sites in place of petrol, which is considered dangerous, or diesel.
Joint project aims to produce multi-cylinder engine
Pulse-R was originally developed with support from the Niche Vehicle Network, where its exceptional fuel efficiency and tolerance to poor fuel quality was first observed.
The design was progressed further through an Energy Catalyst grant - the programme addressing major challenges in the energy sector, which is funded by Innovate UK and partners including the Department for Business, Energy and Industrial Strategy, the Department for International Development and Engineering and Physical Sciences Research Council.
This supported OakTec to broaden the engine's capabilities to generate electricity by burning bio-gas produced by micro-digesters.
OakTec is now working on a further Energy Catalyst project with leading engine-supply business, E P Barrus. This project aims to create a multi-cylinder Pulse-R that can be used to power generators in developing economies.
As a strategic partner, E P Barrus will actively support OakTec to get its first engine to market.
Early customers to trial prototype engine
OakTec is now in the process of building a small number of well-developed prototype engines to demonstrate on the market.
Paul Andrews, Chief Executive of OakTec, said:
We have a queue of people around the world wanting to try engines, and a big body of potential customers in the UK and Europe.

We also have interest from South America, Mexico, from Asia, particularly Vietnam, and from Africa and India.

All our target markets are coming to us asking when they can have engines to test. Our challenge now is to industrialise, and get engines into these markets as quickly as possible.
OakTec's research shows the global market for small single cylinder engines to be around 120 million engines a year. Staff will visit interested countries this year to demonstrate the engine to these potential customers.
Business doubled in size
Paul added:
The [Energy Catalyst] support was transformative for us.

It wasn't just the funding, which allowed us to attract and keep the excellent people we have working on the project, it was also the support we received from our monitoring officer, the Innovate UK technologists and the Knowledge Transfer Network.

We have made an effort to use all the support available to us through the Innovate UK family because it's extremely useful.
OakTec employs 13 people, working full and part-time. It has doubled in size over the last 18 months and expects to grow significantly over the next few years.
Published 30 July 2018