Niteworks 3: Transforming the delivery of the UK's Air ISTAR capability
Transforming the delivery of the UK's Air Intelligence Surveillance Target Acquisition and Reconnaissance capability through a Whole Force Approach to Defence Lines of Development.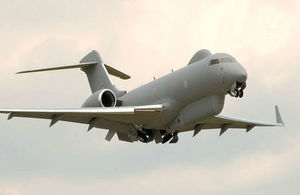 Background
MOD is considering the future of UK's operational Air Intelligence Surveillance Target Acquisition and Reconnaissance (ISTAR) capability. The current Force consists of five major air platforms Sentry, Sentinel, Airseeker, Reaper and Shadow. Two additional platforms POSEIDON and PROTECTOR will be added in 2020. The platforms were procured as single equipment, with limited alignment and planning and integration across Defence Lines of Development (DLOD).
Programme ATHENA, when established, will aim, in the 2025 timeframe and beyond, to enhance capability through an enterprise approach across the broader ISTAR defence and industrial community providing agility adaptable to change and evolution.
Nitework Tasks
Niteworks was tasked with providing impartial; industry informed and researched decision support to the Programme ATHENA pre-concept phase. This included defining the baseline; identifying options for the ISTAR Force Operating Model (FOM) with the adoption of a Whole Force Approach (WFA) to training, support and sustainability, personnel and infrastructure. This included advice on potential commercial constructs.
How did Niteworks approach the task?
Industry engagement and research were essential and significant input was obtained from a wide range of industry from the Partnership. MOD stakeholders in HQ Air, Front Line Commands, RAF Waddington and Defence Equipment and Support were also major stakeholder participants. One to one engagements, industry workshops and a final Senior Industry Review Panel were conducted. A benefits led Outcome Relationship Model (ORM) was used to capture the programme information and align this with the required Defence outcomes. The team articulated these outcomes in the likely Programme Athena timeframe in the context of a draft vision and strategic context.
What was the outcome?
Nine potential projects that would potentially transform the Force within the 2025 timeframe were identified and outlined. Four ISTAR Force options were put forward to better manage its complexity within an enterprise approach.
The Niteworks task concluded that it is feasible to deliver an enterprise approach with an integrated ISTAR Force operating model that:
realises the Programme ATHENA draft mandate benefits
meets the 2025 timeframe
meets the manpower liability challenge with a Whole Force Approach
is likely to be affordable within Defence Air ISTAR provision
There is a viable approach that focuses effect on targeted and measurable activities within the critical DLODs of Training, Personnel, Logistics, Infrastructure and Information.
Benefits
a strategic vision, supporting blueprint and plan provides a path for transforming delivery of Air ISTAR capability
increased availability of Mission Capable Aircraft
increased operational effectiveness and efficiency with reduced operational risk
agile incentivised support and sustainability whole force approaches
potential projects allow the benefits in the draft Programme ATHENA mandate to be realised
a more efficient and effective ISTAR Force Operating Model
Published 28 March 2018