Niteworks 3: Prototyping a Rapid Messaging system for MOD
Prototyping Rapid Messaging for the Ministry of Defence that would allow an 'anytime, anywhere' alert to staff who are on or off duty.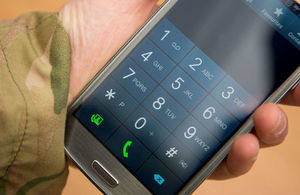 Following a terrorist incident in London, a four star requirement was raised for an 'anytime, anywhere' capability to allow the Ministry Of Defence (MOD) to alert on and off duty personnel and pass urgent, simple, location based, instructions. This had previously been done through the slow and unreliable method of cascade phone calls and emails, to duty personnel, and would take hours or days. Knowing parts, but not all, of the requirement were being met outside defence, Niteworks used its 'Brockworks' fail, fast, safe, rapid development and prototyping approach, to integrate available commercial technologies into a single, unique capability.
Initially Niteworks worked with Information Systems and Services (ISS) and Defence Business Resilience (DBR) to develop use cases and scenarios. Then, exploiting the ready made, broad industrial base, easily accessible in and through the partnership, Niteworks identified expert developers and best of breed candidate technologies. Drawing on these, its knowledge of MOD systems and processes and its Brockworks pedigree, it went on to develop an architecture, high level designs and demonstration system.
The Brockworks design, build, test and iterate approach took less than 12 weeks to deliver a working, proof of concept, 'rapid messaging' system. This demonstrated that a single duty officer, using a specially designed, web based application, could send a tailored message to all registered MOD personnel, or specific groups based on location, organisation, team or even a named individual, within seconds or minutes.
Recipients could be reached at a click by some or all of:
A Niteworks designed IOS or Android smartphone app
SMS Text message
Automatically generated voice call
Email
and would be able easily to acknowledge receipt of the message.
This speed was achieved by Niteworks experts building the core system elements in Microsoft's Azure Public Cloud Service, at the time relatively new to the market, and integrating them with a commercial short message service broadcast provider and other components.
Throughout the project, live and tabletop demonstrations to officials from junior ranks to Vice Chief of the defence staff enabled the use cases to be refined and a draft requirement to be drawn up with the intention of contracting with industry for a delivered solution. The Concept Capability Demonstrator was developed further in 2016 to test at scale, refine requirements and deliver insights into how MOD could adopt and manage the service most effectively.
As with all Niteworks projects, the architecture, designs and code, along with an enhanced understanding of the requirement derived from dynamic, live demonstrations, are all owned by the MOD. Industry has been actively and successfully engaged, to date MOD's acquisition options remain open. As well as these project specific benefits MOD was able to develop their general understanding of public cloud computing, security and commercial products, identity and access management, and non-technical challenges around privacy, process and organisation.
Published 28 March 2018