Niteworks 3: Generating effective capability through experimentation
British Army Brigade Head Quarters Command and Control Analysis and Experimentation.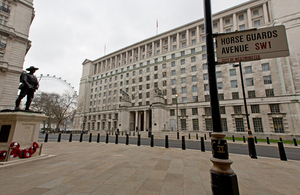 Project Summary
Analysis and Experimentation (A&E) is a key element of the Army's Force Development process, through which it gathers objective and robust evidence to determine how it should operate in the future. The Army's major A&E work strand for 2014 was Project URQUHART, which focussed on the future provision of C4ISTAR information capabilities. A number of Niteworks projects have been supporting Project URQUHART since early 2014.
The Army's Director General Capability (DG Cap) asked Niteworks to provide support to the conduct of Project URQUHART and especially to its capstone event- an exercise scheduled to take place in Grafenwoehr, Germany in August and September 2014 named COMBINED ENDEAVOUR 14 (CE14). This Niteworks task would become known as the Brigade HQ Command and Control (C2) A & E project.
How did Niteworks approach the task?
Niteworks was initially asked to undertake a concept of analysis (CoA) during FY 13/14 into what experimentation could be achieved during the URQUHART execution phase. However it soon became evident that the Army would also require technical support to design and conduct CE14.
Drawing on expertise from across the partnership, Niteworks pulled together a team of sixteen people comprising analysts, data collectors, technical specialists and exercise managers. This team would support the URQUHART events and CE14, both during its execution and the subsequent analysis and experimentation work.
Exercise COMBINED ENDEAVOUR 14 involved coalition communications staff from thirty-one nations. The UK aims within CE14 were to understand how the Reaction Force (RF) Armoured Infantry (AI) Brigade could operate effectively within a coalition environment, with specific focus on its information superiority capability. The Niteworks team was required to capture data to better understand the Brigade's baseline C4ISTAR capability over the next four years (to 2018), including the impact of any shortfalls in its ability to support national and coalition operations. This in turn would allow future capability goals to be set. The team's work would also help set the conditions for the Army's long term A&E activities under the AGILE WARRIOR programme.
In its observation and exercise control role, the Niteworks team observed how military users employed a variety of systems during the exercise as well as Command and Control (C2). With the support of military staff from the Command, Staff and Tactical Training Group (CSTTG) they considered the Brigade's ability to execute into contingent operations from three different perspectives: CIS; ISTAR Concepts and Solutions (ICS) and a new HQ structure, a departure from the traditional G1 – 9 format to an Integrated Functional Cell approach similar to the Divisional structure. This allowed the team to produce in depth analysis of the Brigade Headquarter's C2, CIS and ISTAR capabilities. The team used a bespoke Niteworks collection tool, named Excalibur, which helped map the observations and collect the empirical data. Over 750 observations were collected over a nine day period as well as a series of 'Deep-Dives' each evening.
What was the outcome?
As a result of the project, the Army now has robust evidence to underpin its decisions on Force Development in Land Environment (LE) C4ISTAR, during a time of budgetary restraint.
A set of early analysis has been delivered to support the delivery of Director Land Warfare's AI Bde CONEMP to DG Cap. Interventions on future capability can be effectively prioritised, leading to the quicker delivery and force generation of the Armoured Infantry Brigade. The operational risk associated with employing the Armoured Infantry Brigade has also been reduced.
What were the benefits?
project has contributed to the generation of evidence for the future provision of CIS, ICS and C2 equipment
military staff exposed to industry best practice on experimentation
the Excalibur data collection and analysis tool can be reused for future Army experimentation and other Niteworks projects on behalf of the Ministry of Defence
a series of 'candidate options' for future experimentation as part of the Army's 4 year Experimentation Campaign Plan will be produced
Published 28 March 2018