An innovative, user-led and award-winning organisation helping people to manage mental health problems.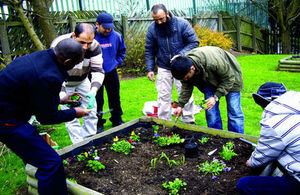 Michael Lilley, a former single parent living in the West Midlands, is a long-term sufferer from depression. However, despite accessing a wide range of services for more than 20 years, he felt they simply did not meet his needs.
He had a strong vision about how to revolutionise mental health services in a way that would put the needs of the service user at the heart of their design and delivery. "I had felt really unsupported, humiliated and powerless," says Lilley.
So, Lilley studied for a degree in psychology before training as a psychologist and counsellor. Today, he runs the award winning social business, My Time, employing 33 people and helping more than 600 people to rebuild their lives each year. In 2010, the business had a turnover of £500,000.
"My dream was to build a service user owned, professional and intercultural community based mental health service for people hit by depression, anxiety, low self-esteem and other mental health problems," says Lilley.
"One of My Time's greatest achievements is its success in engaging with individuals typically excluded from mainstream mental health provision," Michael says. "This includes men, those with black or ethnic minority heritage and those for whom English is not their first language."
Around 70 per cent of My Time's clients are from black minority and ethnic groups, while services are delivered in more than 22 languages.
My Time was originally set up as a private company, with a separate charitable trust giving it direction and steering. However, when My Time's main funding from the local authority was cut, My Time had to have a serious rethink about structure and revenue.
"The CIC structure saved us really. It enabled us to set up the kind of organisation we had always wanted – based on a service user led model, and gave us the opportunity and tools to build up equity, " says Lilley.
My Time is the first UK Community Interest Company to develop a model in which three different groups – service users, local organisations and investors – all own a share in the CIC.
It is this model that recently attracted a pioneering £200,000 investment from Big Issue Invest, the first redeemable preference share investment into a CIC or social enterprise.
"We are very excited about the future. The investment from Big Issue Invest will be used to replicate our counselling model, launching up to 10 franchises, thereby, dramatically increasing the numbers of individuals who will be able to receive effective therapy. It will also allow us to transform our balance sheet, making it much stronger," says Lilley.
| | |
| --- | --- |
| Name | My Time |
| Location | Based in West Midlands |
| Company structure | CIC limited by shares |
| Founded | September 2002 |
| Community interest statement | My Time aims to help achieve a dignified and equal society, and promotes and encourages a perspective that respects people, the environment and different cultures. |
Find out more about My Time
Published 12 November 2013