Case study
Music in Afghanistan
Afghan girl uses musical talent to proudly represent her country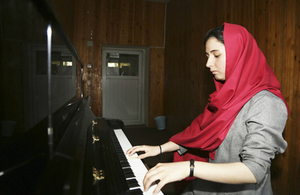 Negina is an 18 year old student studying at the Afghanistan National Institute of Music (ANIM) in Kabul. Her ambition is to become the best pianist and orchestra leader in Afghanistan. The UK is helping to support ANIM through the Afghanistan Reconstruction Trust Fund (ARTF).
ANIM (currently Afghanistan's only dedicated music school) is helping Negina to achieve her goals. Most of ANIM's 300 students are girls, reflecting the Institute's dedication to promoting women's rights and ensuring gender equality in the music sector.
Negina is an orphan. She became a music student five years ago, which changed her life.
She said:
Before coming here, I was studying at Spin Kalay School, a public school…I did not have any hopes of being recognised for any talent and known both in Afghanistan and other countries in the region and the world.
ANIM students have performed on international stages, showcasing Afghanistan's rich musical heritage.
Negina said:
I could never imagine that I would be able to serve Afghanistan as much as I have after enrolling in the music institute.
This UK is a key donor of the ARTF, which supports reconstruction needs and the delivery of basic services across Afghanistan.
Published 15 October 2015