Case study
Milli Medical in Mazar-e-Sharif
Milli Medical's pioneering histopathology centre in Mazar was established in 2013 with the help of a contribution from the Afghanistan Business Innovation Fund (ABIF).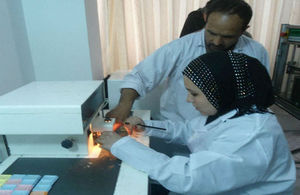 This centre offers cancer diagnostic services for patients across northern Afghanistan. So far Milli Medical has tested 570 tissue samples. It has also trained over 150 doctors/medical personnel and employs 8 people.
Milli Medical focuses on breast cancer, but can take and test samples from a wide range of suspected tumours. The laboratory also provides pathology training to medical students, and Dr Rokai is currently setting up a dedicated training facility in the same building, which he intends to operate on a cost recovery basis. Before the centre was set up, patients had to go to Kabul, Pakistan or India to see a doctor.
News of the convenience and quality of Milli Medical's diagnostic services is spreading, although Dr Rokai acknowledges that awareness-raising is still an issue. The husband of a patient being treated by Milli Medical said that, "It is easy to get to this lab without having to travel for miles. The doctors speak the same language so it is easy to understand what they are saying. The test, which is the same as the one in Pakistan, is cheaper here at 1300 Afs [£14] and you get result quicker."
ABIF is a private sector investment fund supported by the United Kingdom's Department for International Development and the Australian Government. ABIF is designed to support entrepreneurs, innovative ideas and new business strategies to help Afghans build sustainable enterprises.
Published 30 April 2015